TOWER OF GOLD
14 Oct 2015
A new design for what will be the tallest residential building on the Gold Coast has just been approved. The $1.2 billion development will stretch 285m skyward.
A new design by DBI Design has just been approved for Surfers Paradise on the Gold Coast. The waterfront residential tower will house 693 apartments and reach a height of 285 metres. When complete, the 88-level construction will exceed the height of the current tallest tower in Australia, the Q1.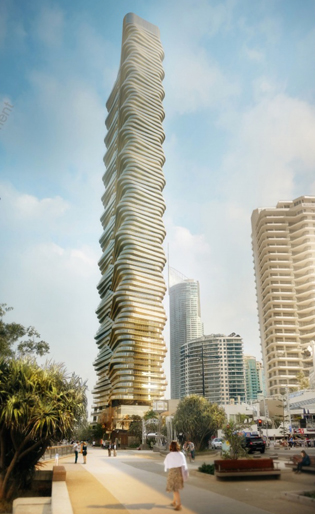 The Iluka development, proposed by China-based conglomerate Forise Holdings, will be located on the corner of Trickett Street and The Esplanade, the site of what was once the Iluka Beach Resort. In addition to housing world-class luxury apartments in one, two and three-bedroom configurations, the tower will offer high-end restaurants, cafes and retail facilities.
Billed as the largest 5-star Green Star certified residential building in Australia, the development will target world's best practice for environmental performance. With no height restrictions placed on the site, the planned tower shows no impediments to its soaring design.
In a bid to capture audiences from the world stage, the developers plan to spend more than $2 million on public art installations, and install LED lighting on the building's exterior that will create an illusory effect of raining falling down the façade.
Contributions in excess of $1.5 million dollars are required from the developers, as part of the conditions of approval, to benefit the local Surfers Paradise Surf Life Saving Club and the City of Gold Coast Council. Forise Holdings estimates the development will create around 830 jobs every year during construction, and generate economic benefits to the city totalling more than $2 billion.
Gold Coast Mayor Tom Tate praised the plans saying, "I expect we will see this development become an architectural icon that will enhance our own skyline and become world renowned in its own right."
Slated to begin early in 2016, it is estimated the building will take four years to build, with the projected completion date set sometime in 2020.
UPDATE: Construction of the Gold Coast's tallest tower has been fast-tracked and will now begin this year, bringing forward its original 2020 completion date.
SEARCH
SUBSCRIBE TO ENEWS
MORE NEWS
BENEFITS OF TRAVERTINE PAVERS
NEW RECREATION CENTRE FOR SYDNEY
UN-HABITAT'S URBAN RESPONSE
OUTDOOR LEARNING MADE COMFORTABLE
WASTE NOT WANT NOT
MARBLE ARCH HILL