TIS THE SEASON … FOR ART
14 Nov 2017
An annual design competition has netted a winner that will turn New York City's famous Flatiron Public Plaza into an outdoor gallery that reflects the holiday spirit in this busy urban space.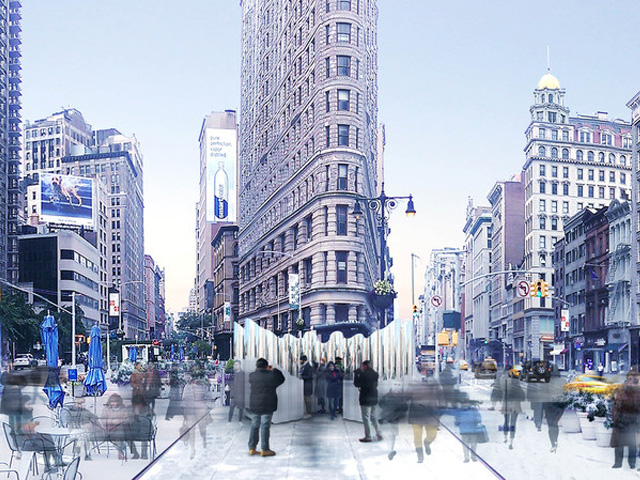 The winner of the fourth annual Flatiron Public Plaza Holiday Design Competition has been announced as Flatiron Reflection by Future Expansion.
In June 2017 non-profit groups Flatiron/23rd Street Partnership and Van Alen Institute invited ten design and architecture firms to submit proposals. "The initiative has become a valuable platform for launching new practices, a visible celebration of inventive, temporary designs that enliven public space during a chillier season, and an opportunity to understand how these spaces impact our minds and bodies," states David van der Leer, Executive Director of Van Alen Institute.
Of the ten design and architecture firms invited to submit proposals, Future Expansion with their Flatiron Reflection won the competition against other firms, including Annie Barrett, The Principals, Kyle May, Hive Public Space, Schaum Shieh, FIRM a.d. and Practice.
Flatiron Reflection is designed for the personal and nearsighted experience, as well as the distance experience. The project is comprised of a bundle of metallic tubes that read as a massive column at the scale of the plaza. The bundled tubes create a fluted perimeter which allows for an individual to occupy the niches.
"The glistening materials and choir-like sculptural formation will prompt passersby to engage with the art," claims NYC DOT Assistant Commissioner of Design + Art + Wayfinding Wendy Feuer.
As you pass by the installation, the tubes reflect various soft reflections, light and shadow. The various tubes fold together, making reflections that undulate between crisp and blurred as you walk by.
Flatiron Reflection plays off of the visual noise in the heart of the Flatiron District - Broadway, Fifth Avenue and 23rd Street. To engage the plaza, the bundle opens in a c-shape for the plaza's winter programming. To promote activity in the plaza during the winter, the installation will remain on view until 1 January 2018.
"The installation is designed for three scales of experience: the deeply creased exterior makes spaces for individuals; the interior room offers an intimate panorama for small groups; the north-facing wedge presents a platform toward the plaza. We hope that the installation opens new possibilities for interaction and experiences while reinforcing the pure public essence of the site," explains Deirdre and Nicholas McDermott, principals of Future Expansion.
SEARCH
SUBSCRIBE TO ENEWS
MORE NEWS
ORIGAMI LAVA LIGHTS UP FESTIVAL
HIGH LINE GOES HIGH ART
GIANT SLUGS SLIME BRITISH GALLERY
THE ART OF PRECAST CONCRETE
NEW YORK INSTALLS HAPPY
PUBLIC ART = CLEAN ENERGY