TIME FOR TIMBER
23 Oct 2019
Renowned watch brand Swatch has unveiled its new HQ in Switzerland, which is contained within one of the world's largest timber structures, designed by Shigeru Ban.
After almost five years of construction, Swatch has inaugurated its Shigeru Ban-designed headquarters in the town of Biel, also known as Bienne, the new HQ for the watch brand is contained within one of the world's largest timber structures. The scheme connects to the Cité Du Temps – a building also conceived by Ban – that contains a museum and a conference hall. The Japanese architect was also responsible for the design of the Omega Production Building, an independent structure also located onsite.
The curved silhouette of the new Swatch building extends over a total length of 240 metres and a width of 35 metres. A timber grid shell construction forms the basic structure of the large-area façade, which, at its highest point, measures 27 metres. The vaulted façade rises gently towards the entrance before transitioning to the Cité Du Temps. During the planning phase, Shigeru Ban and his team used 3D technology to help to define the exact shape and positioning of the approximately 4600 beams of the timber grid shell.
Since the shell serves as a large office façade, it also had to meet various technical requirements. Consequently, a complex network of cables has been discreetly integrated. While the wooden structure was still being erected, the installation of around 2800 honeycomb timber grid shell elements (that make up most of the façade) began. Three basic types of honeycomb can be distinguished: opaque, translucent and transparent.
Internally, 25,000 square metres of floor space is spread over five floors for all departments of swatch international and swatch Switzerland. The entirely glazed entrance lobby features generous dimensions as well as a sense of transparency, openness and lightness. Two glass elevators take employees and visitors to the upper floors and to the glass pedestrian bridge on the 3rd floor, which connects the Swatch building to the Cité Du Temps.
The surface area of the four upper floors decreases successively from floor to floor, while galleries with glass balustrades provide views of the lower levels. In addition to the regular workplaces, various common areas are distributed throughout the building: a cafeteria on the ground floor and small rest areas at various intervals. For moments when privacy is necessary, separate 'alcove cabins' accommodate up to six employees for telephone calls or work requiring particular concentration.
From a sustainability standpoint, groundwater is used to heat and cool the building, while solar power is harvested from photovoltaic panels. Swatch shares the resources with neighbouring 'Cité Du Temps and the Omega Production Building, which went into operation in 2017.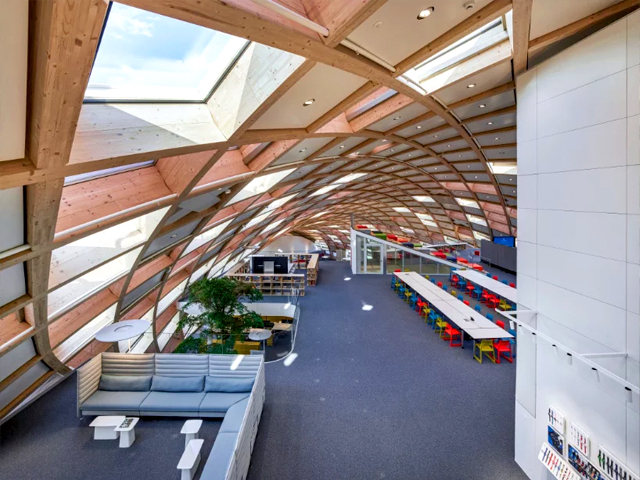 Via designboom | All images courtesy of Swatch
SEARCH
SUBSCRIBE TO ENEWS
MORE NEWS
TREEHOUSE SCHOOL FOR POST-COVID LEARNING
PERTH WELCOMES NEW $695M UNIVERSITY CAMPUS
ELEPHANT WORLD CULTURAL COURTYARD
TIMBER CAR CHARGING STATIONS CREATE REST
UPPER AUSTRALIA
LANDSCAPES GOOD ENOUGH TO EAT