THE EDGE 2012
28 Nov 2011
Renowned for unearthing the next generation of design talent, The Edge returns to Australia in 2012 as part of the Australian Furniture Fair.
40 Australian, New Zealand and Swiss designers will be vying for four prestigious awards when The Edge returns to Australia in 2012 as part of the Australian International Furniture fair.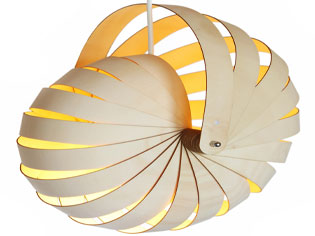 The Edge is renowned for unearthing the next generation of furniture design talent. Currently in its ninth year, the leading international design competition will be held next year at the Sydney Exhibition Centre from February 1 – 3.
Boasting a stellar line-up of 50 creative furniture designs in Student, Commercial, Concept and Green categories, the hotly anticipated event has been entered by 40 gifted designers from Australia, New Zealand and Switzerland.
Seating has emerged as a strong trend for 2012, with chairs, stools and recliners accounting for almost half of the designs submitted. Seating pieces range from the brightly coloured Café/Bar Collection by Chunk Design to the versatile Plus Minus Plus stools (which can be converted to a low side table) by Mina Chung. Other seating highlights include Elizabeth Bowtell's multifunctional and eco-friendly TRI bamboo bench and the Giddyup rocking stool by Tim Wigmore.
Lighting will also be a strong focus, with a diverse range of pendants and table and floor lamps entered. From the shell-inspired Nautilus Lampshade by Rebecca Asquith to the astronomical DE-LIGHTS by Youngju Lee, and the cardboard Kartonklunker chandelier by Rainer & Tobias Kyburz, lighting promises to be cutting edge.
The Student Award continues to thrive as the leading category in The Edge 2012, boasting an impressive 27 out of 50 competition entries. Designs have been entered from the Sydney College – Enmore Design Centre; Lidcombe TAFE; the University of Technology Sydney; University of New South Wales; Sturt School for Wood; the University of South Australia; the Central Institute of Technology; RMIT University; and Swinburne University.
The talented finalists will be vying for the competition's four Awards for Excellence in Design which will be presented on the opening day of the Australian International Furniture Fair (on February 1). These include:
• Best new prototype designed by a tertiary Student
• Best new prototype/Concept designed by a professional designer
• Best new Commercial release designed by a professional designer
• Green Award for the best new sustainable product
Winners of The Edge Concept Award and The Edge Student Award will receive cash prizes. Additionally, The Edge Commercial Award winner will receive a stand package at the 2013 Fair and a special trophy will be presented to The Edge Green Award recipient.
For more information, visit: www.aiff.net.au
SEARCH
SUBSCRIBE TO ENEWS
MORE NEWS
MARBLE ARCH HILL
OUTDOOR LEARNING MADE COMFORTABLE
BENEFITS OF TRAVERTINE PAVERS
NEW RECREATION CENTRE FOR SYDNEY
UN-HABITAT'S URBAN RESPONSE
WASTE NOT WANT NOT