THE CAPITAL OF ENTERTAINMENT
14 Aug 2019
Construction has begun on the Saudi Arabian megaproject, Qiddiya, an ambitious district masterplan that will become the "capital of entertainment, sports and arts" for the country. Designed by BIG, the city will offer a variety of attractions including a theme park, a motorcar racing circuit and a 'resort core' with hotels, retail and restaurants.
The masterplan for Qiddiya was put together by Bjarke Ingels Group (BIG) and is currently under construction 45 kilometres away from Riyadh, Saudi Arabia's capital. The scheme will generate thousands of new jobs across an extensive range of industries.
It is planned that the actual development will cover only 30 percent of the allocated land, allowing for the majority of the site to remain for natural conservation. The district will respond to the area's natural landscape and will include various pedestrian and cycling routes throughout the city.
The site will be constructed around a series of development nodes. The Resort Core is the heart of the district where four attractions will gate a retail, dining and entertainment precinct and various hotels. Parallel to this will be an outdoor entertainment venue and park that can hold 5000-40,000 people and will include skating and skiing facilities.
The 2022 opening phase will feature a Six Flags theme park with rides and attractions across six themed zones; a water sports and entertainment park; and a Speed Park, which brings motorsports experiences to a venue that "places equal emphasis on spectator and driver", and includes racing tracks, showrooms, shops and a hotel.
The City Centre is a mixed-use village dedicated to sports and arts that overlooks the Resort Core from the top of a cliff. This area is connected to the Entertainment Core below by a funicular transportation system with residential, retail and corporate buildings organised around two intersecting pedestrian walkways.
The City Centre will host a series of sports venues, including a 20,000-seat stadium, an 18,000-seat indoor arena, an aquatic centre and a sports hub that hosts sports and events. It will also include a 2000-seat theatre and multiplex cinema.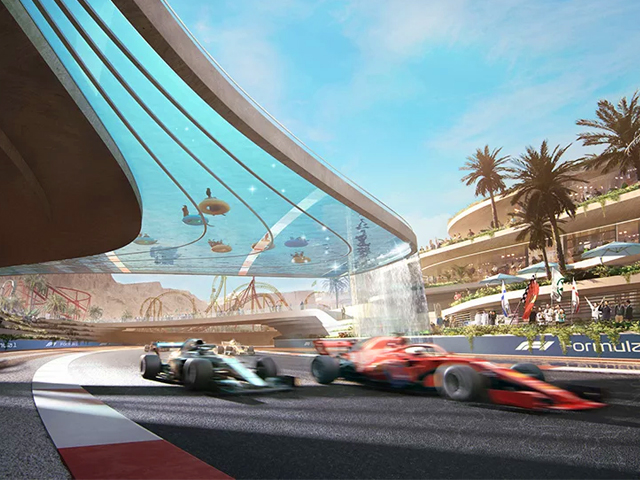 The city will be active 24/7 and will also include a creative campus with workspaces, media production and education facilities. A colossal mosque will provide a place for worship and social gathering. A high street will provide retail and dining options. A private school, a sports medicine hospital and cliff-top villas will complete the district.
The Eco Zone venue sits northwest of the Resort Core, which will include a series of nature and wildlife spots, a golf course and outdoor sporting adventure. Southeast of the Resort Core will be the Motion Zone, which will host events, experiences, residential and hospitality programs, driven by science and technology. A Race Resort in the area will provide access to a 15km driving course, facilities for off- and on-road driving experiences, driver education and destination motorsports events.
A golf and residential community will near the centre of the district, which will include an 18-hole golf course, a clubhouse, a resort hotel and spa, and equestrian facilities. Everything can be accessed from villas, townhouses and retreats.
The project began in April 2018 with Phase One set to open to the public in 2022.
All images courtesy of Qiddiya Investment Company
SEARCH
SUBSCRIBE TO ENEWS
MORE NEWS
HIGH-CLASS DESIGN FOR HIGH-SPEED RAIL
A TOWER WITH PURPOSE
WORLD-FIRST 3D-PRINTED COMMUNITY COMBATS HOMELESSNESS
WIND TURBINE TO LANDMARK
SEA TURTLE RESEARCH & REHAB CENTRE
A MUSEUM OF CULTURAL IMPORTANCE