TANKS ALIVE
29 Aug 2019
In order to save 10 decommissioned tanks from demolition on the waterfront of Brooklyn, New York, two architectural firms have proposed a plan to repurpose the structures into a range of multipurpose public spaces that engage the local community. The plans provide an innovative insight into how deteriorating structures can be redeveloped for public use.
The repurposed tanks will capture the creativity of the local community by providing a range of sustainable public spaces that will provide greenspace and celebrate the history of the tanks.
Local communities have been working for years to try to save the industrial tanks located at Bushwick Inlet Park from demolition by proposing many plans for alternative uses of the structures.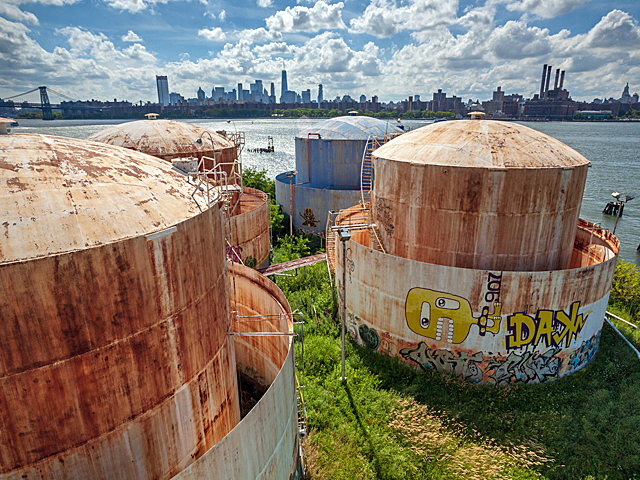 Architectural firm STUDIO V and landscape architects Ken Smith Workshop developed the innovative proposal for the repurposing of these tanks into a modern park space – a novel idea in the traditional sense and in the configuration of public spaces.
Due to their cultural and civic significance, it is imperative that the tanks are to be given a public persona and function that would celebrate their history.
The proposed plans see each tank repurposed into a unique form that engages the community. These forms include vertical gardens, performing spaces, art installations, a picnic grove of birch trees and wildflowers with reflecting pools, a 250-seat theatre, a rocky adventure playground and an oyster farm that aims to rejuvenate the devastated oyster population in the New York harbour.
The tanks will capture the creative culture and community of the surrounding neighbourhoods by promoting the art scene and placing value on green and open spaces that engage the community in multiple forms.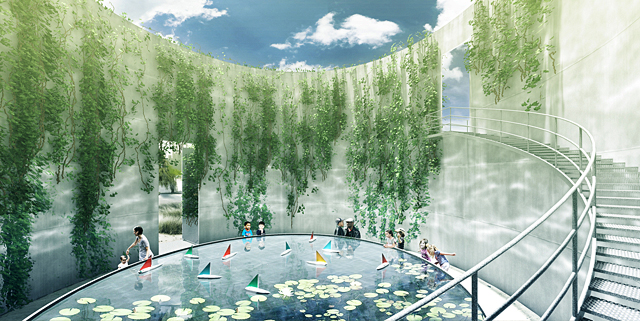 The project will be created in ten stages to ensure the project progresses smoothly. The process will include bottom-up approaches, sustainable construction techniques and inclusive solutions.
A documentary created by PLANE-SITE details the approach of the two firms and aims to reach out to communities for support in halting the demolition works that are planned for the tanks and pushing the idea of redeveloping the structures.
Images courtesy of STUDIO V Architecture and Ken Smith Workshop
SEARCH
SUBSCRIBE TO ENEWS
MORE NEWS
REIMAGINING BROOKLYN BRIDGE
NORTH SYDNEY POOL GETS AN OLYMPIC UPGRADE
AUSTRALIA'S NEWEST CBD BUILDS UP
THE '20-MINUTE NEIGHBOURHOOD'
SYDNEY ANNOUNCES PEOPLE-FRIENDLY CITY CENTRE
BELFAST WATERSIDE DEVELOPMENT APPROVED