STOP THE PRESS
17 Feb 2016
Danish firm COBE has unveiled its masterplan for Christiansholm, an artificial island in Copenhagen harbour formerly occupied by the Danish press.
With the unveiling of its masterplan for an artificial island in Copenhagen harbour, Copenhagen-based firm COBE beat out competition from architects including OMA, MVRDV, Henning Larsen Architects and CF Møller to win the contract, which it has developed with Dutch landscape studio Inside Outside, and engineers Via Trak and Transsolar.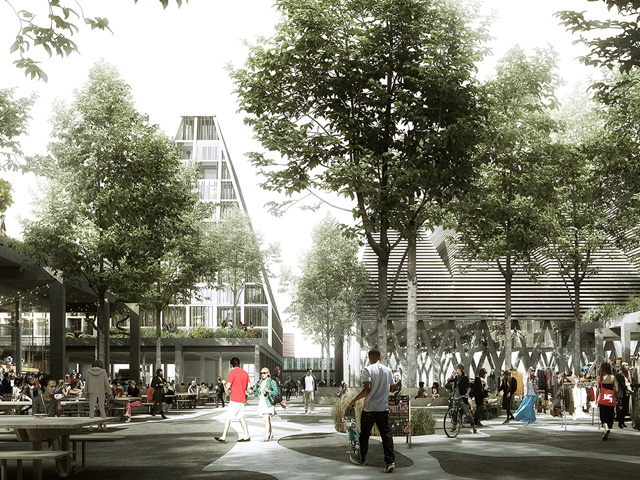 The 29,000 sqm landmass in the heart of Copenhagen's harbour is known locally as Paper Island – a reference to its former occupants and the huge warehouses used to store its reams of newsprint.
But the press was vacated in 2013, and the new 45,000sqm scheme will see its warehouses replaced with a development of pitched-roof halls containing event spaces, galleries and a swimming pool.
Housing will be placed on top of these ground-level uses, which renders show being used for fashion shows and street-food markets. The buildings will surround a green courtyard and have access to a public promenade along the waterfront.
"Our vision for the island's future is to create a place that celebrates the city's culture and the Copenhagen way of life," said COBE's creative director Dan Stubbergaard.
Christiansholm is located next to the Opera House and the Royal Danish Playhouse but, despite its prime location, the island has remained undeveloped. The island's owner, CPH City & Port Development, organised an invited competition to redevelop the area in April last year.
The island is currently home to Copenhagen's creative industries, including COBE's offices. The firm is undecided on whether it will relocate when the redevelopment commences in 2018.
"With the winning proposal we have taken a big step forward in the development of Christiansholm, which is the crown jewel of the inner harbour with its central location right across from the Royal Danish Playhouse," said CPH City & Port Development CEO Jens Kramer Mikkelsen.
The Danish firm will work with CPH City & Port Development, the City of Copenhagen and developer CØ p/s to develop the winning proposal for Christiansholm Island in the coming months.
SEARCH
SUBSCRIBE TO ENEWS
MORE NEWS
SYDNEY'S NATURAL STONE SPECIALISTS
LANEWAYS REVITALISATION PLAN
PARK WARRIOR COURSES ARE SPRINGING UP ACROSS AUSTRALIA!
CENTRAL PARK VISION FOR MIDTOWN MACPARK
NATURE-BASED PLAY
CREATING TIMBER ALTERNATIVES