STAIRWAY TO THE FUTURE
13 Aug 2014
Commercial/architectural finished stair treads – built for the most fastidious client and designed to last.
Southern Cross Precast Concrete (SCPC) has refined and installed precast stair treads for the Australand housing subdivision in Shellcove, NSW. The stairs consist of 24 individual treads in four separate flights, and are part of the centre piece of the new park.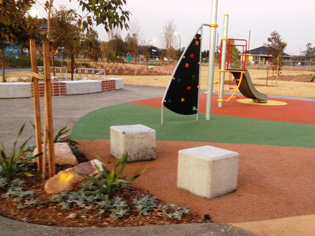 The treads started as profiled units with colour tint and have developed into architecturally finished pieces with a cast in non-slip tread nosing. With an acid washed textured finish, they provide style and high quality with a non-slip surface, while being rugged enough to provide years of maintenance-free outdoor service.
The stairs have been designed for quick installation with a number of standard profiles that allow additions to be readily matched and provide the highest level of OHS compliance.
Concrete profiles can be altered to meet the customer or architect's requirements; coloured to meet any site specific tones; and textured to suit different locations.
Want to know more? If you have a project that requires stairs, contact Southern Cross Precast Concrete today.
Outdoor FurnitureWhen taking the kids out for a walk, waiting for them to climb or cycle around the park can tire even the most healthy adult. Southern Cross Precast Concrete has the solution - with seats in any shape, size or finish to provide the optimum waiting area close to the action.
SEARCH
SUBSCRIBE TO ENEWS
MORE NEWS
HUSQVARNA CHAMPION OF CHAMPIONS: LANDSCAPER OF THE YEAR ANNOUNCED!
ENCHANTED BOTANIC GARDENS
INCLUSIVE PLAY AT TRESILLIAN PARK
DANCE FLOOR TO DIVING PLATFORM WITH BLUECHIP TRAXION
AUSTRALIAN-MADE RESTROOMS
EXCITING THINGS TO COME