SPRAYGRASS - REVEGETATION INDUSTRY PIONEER FORGING AHEAD AT 40
01 Dec 2009
Australia's most experienced landscape revegetation company, Spraygrass Pty Ltd, has celebrated its 40th birthday, with a vast list of remarkable memories and expansion plans for the future.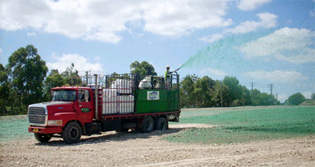 Spraygrass Pty Ltd, Australia's most experienced landscape revegetation company, has just passed its 40th birthday with a chest of remarkable memories and expansion plans for the future.
"It's been a great journey, a lot of the time breaking new ground – if you'll pardon the pun," says Doug Wimble, the company's visionary chairman who has been there since day one.
Spraygrass pioneered commercial hydromulch seeding in Australia. Before then seeding for landscape repair and erosion control was all done the time-honoured way - broadcast by hand or crudely spread from the back of a moving tractor.
Established in November 1969, the new company was the first in Australia to own and operate a hydromulch machine, a truck-mounted apparatus that blows a slurry of seed, fertiliser, water and binding bituminous tar easily and effectively over wide areas and difficult terrain.
Spraygrass kick-started with a big contract to grass and landscape 200 acres around the new International Terminal at Sydney Airport.
"We got that contract to the surprise of everyone in the industry," says Doug. "We turned up with our machine, and they all said 'Who the hell are these people?' I reckon they thought it was some sort of scam."
From there Spraygrass went out on the road, winning contracts wherever they could, building new machines for their increasing workload and all the time demonstrating the benefits of their new technology. One early job was to grass the whole new bauxite mining township of Gove (now Nhulunbuy) on the north-east tip of Arnhem Land. Spraygrass shipped a machine up there and grassed all the roadside strips, parks, home lawns, the lot.
It revegetated a vast mining site at the Argyle Diamond Mine in the Kimberley Region, WA, grassed and landscaped several new suburbs in Canberra, ACT, restored the old uranium mine site at Rum Jungle, NT, and even grassed the perimeter of luxurious Hayman Island in the Whitsundays, Qld, among other projects.
"We've worked far more widely across Australia than anyone else in the industry," Doug says. "In the early days, particularly, it was in our interest to develop the industry as well as our company – and we went for it."
Originally an employee, Doug Wimble bought out the sole remaining original partner in1987. Over the years he has seen more than 20 direct competitors enter the Australian industry.
In 1979 he became a member of the International Erosion Control Association, an industry organisation with some 3500 members around the globe. In 1993 he established the IECA's Australian chapter, and this now has some 200 members, companies and individuals. He was appointed to IECA's international board in 1998 and remained there for nine years, the last three as world chairman.
At home Doug Wimble has now stepped aside and his son Luke manages Spraygrass. Luke has been in the company for more than 15 years and knows the ropes.
As it passes its 40th milestone, Spraygrass is flat out on revegetation and landscape projects including the sizeable Coopernook bypass near Taree, Alstonville bypass near Ballina and others, with more on the horizon.
"We'll be buying more equipment next year to carry what we see as an expanding workload," says Luke. "We've been in the field a long time, but the projects keep coming and it's still deeply rewarding!"
SEARCH
SUBSCRIBE TO ENEWS
MORE NEWS
CLIMBERS FOR ALL-AGES
SYDNEY PUTS PEOPLE FIRST
GET THE NATURAL LOOK
GOSFORD QUARRIES CIVIL SANDSTONE FOR VENM MATERIAL SUPPLY
DRAINING LARGE FLAT PAVEMENTS
TRANSFORM A HOME IN THREE SIMPLE STEPS