SOUTH BANK GETS UPCYCLED
01 Feb 2018
The 'upcycled' South Bank Parklands precinct is now a creative arts space that includes a series of activity zones that support recreation and performance pursuits in the public space.
Brisbane's South Bank Corporation has launched a new 3000 square metre pop-up art space in South Bank's disused Arbour View Café site, with a year's free entertainment on offer.
The revitalised location, Flowstate, will feature three distinctive areas: a grassy 'relaxation zone', an 'immersive' digital installation and a curated performance pavilion for a range of artists. The interim use site is in place for 18 months.
According to South Bank Corporation, the space was designed by specialist Australian architecture and performance design firm Stukel Stone, who were appointed following a national search. Stukel Stone have been engaged in conjunction with Brisbane landscape architects Lat27 and Melbourne design studio ENESS.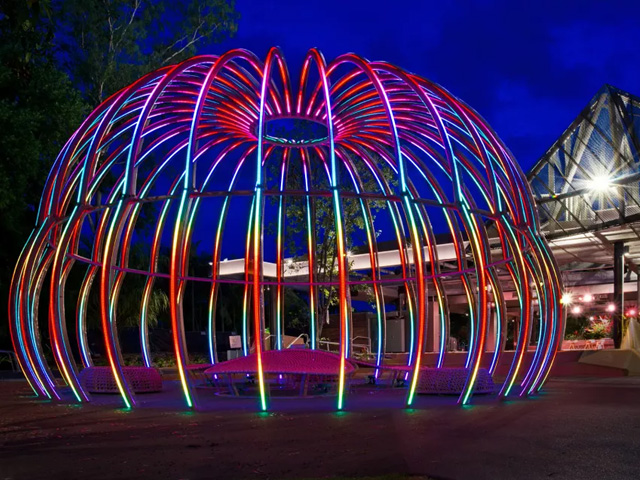 Dr Catherin Bull, chair of South Bank Corporation said the space would offer the public free visual, interactive and immersive experiences.
"Flowstate repurposes the now disused Arbour Café site as a short-term initiative that provides a tangible demonstration of creative urban recycling in the heart of the precinct.
"Flowstate is South Bank Corporation's contribution to the cultural activities happening during the year of the Commonwealth Games.
"…Flowstate aims to encourage a vibrant culture of exploration and exchange across the greater South Bank precinct."
In delivering the program South Bank is also working with precinct partners such as the Queensland Performing Arts Centre and Griffith University as well as broader partners including UPLIT, the Festival 2018 Games Cultural Program, Circa and Metro Arts.
The Flowstate installation marks the first redevelopment of the South Bank Parklands since the 2011 River Quay project.
The redevelopment also includes installation of all-weather awnings along the retail and dining strip of Little Stanley Street.
SEARCH
SUBSCRIBE TO ENEWS
MORE NEWS
NEW YORK INSTALLS HAPPY
ORIGAMI LAVA LIGHTS UP FESTIVAL
HIGH LINE GOES HIGH ART
PUBLIC ART = CLEAN ENERGY
GIANT SLUGS SLIME BRITISH GALLERY
THE ART OF PRECAST CONCRETE