SOAK IT UP 2019
19 Mar 2019
Austswim's World Conference – Soak It Up – will be held on the Sunshine Coast in October and features a host of information on the latest aquatic happenings. Have you signed up?
Australasia's leading water safety organisation AUSTSWIM (Australasian Council for the Teaching of Swimming and Water Safety) is presenting an international conference on Aquatic Education.
The Soak It Up World Conference will be held at the Novotel Twin Waters Resort on the Sunshine Coast from 4-5 October 2019.
Over two information-packed days, conference participants from across the sector will present and discuss a wealth of initiatives, concepts, research and programs in water safety, aquatic education and Aqua fitness. Pre-conference workshops delivered by AUSTSWIM will also be held.
2019 is gearing up to be a massive year for AUSTSWIM as they celebrated 40years of service to the aquatics and recreation industry. With over 335,000 teachers of Swimming and Water Safety trained since inception, the legacy is significant.
The Soak It Up conference promises to be an event not to be missed.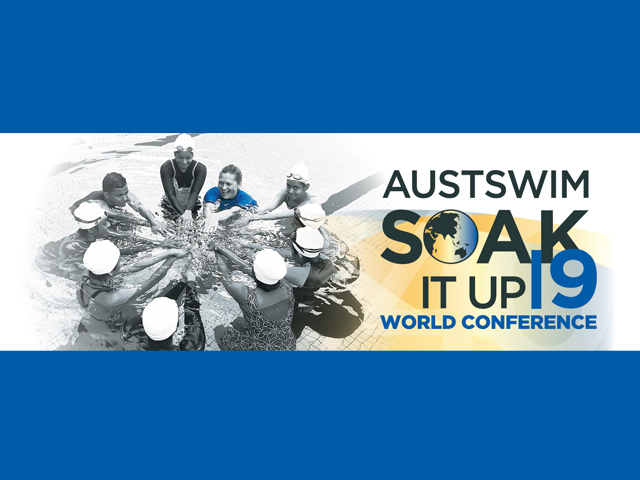 IMPORTANT DATES
Keynote speakers announced January 2019
Early bird conference delegate registrations open March 2019
Twin Waters Resort accommodation bookings open now
Flight discounts available through Qantas from early 2019
Conference program due to be available in late March 2019
For more Soak It Up 2019 information CLICK HERE
AUSTSWIM | The Australian Council for the Teaching of Swimming and Water Safety, Austswim was formed in 1979 with the objective of developing a consistent and better quality of training for teachers of swimming and water safety across Australia.
AUSTSWIM consists of a National Council, which has members from The Royal Life Saving Australia, Surf Life Saving Australia, Swimming Australia Ltd, YMCA, ALFA, and from AUSTSWIM State Advisory Committees from each state and territory of Australia.
AUSTSWIM's strong philosophy is founded on the belief that all Australians should have appropriate and relevant swimming and water safety skills and understand the principles and practices of water safety.
AUSTSWIM trains and accredits 10,000 teachers of swimming and water safety each year, has trained over 335,000 teachers since its inception, and has currently over 33,000 active, accredited teachers based in Australia, New Zealand and internationally.
For further information contact AUSTSWIM at info@austswim.com.au
SEARCH
SUBSCRIBE TO ENEWS
MORE NEWS
AUSTRALASIAN PARKS & LEISURE JOURNAL SUMMER EDITION. GOTTA HAVE IT?
2019 LANDSCAPE QLD EXCELLENCE AWARDS
NURSERY SALES SHOW SOLID GROWTH
AUSTRALIAN PARKS & LEISURE JOURNAL AUTUMN EDITION. GET IT NOW
THE LANDSCAPE SHOW 2020
GET EXCITED. CIVENEX 2020 IS HERE!