SMART STREETS AND SOLAR ROADWAYS
21 May 2014
Creating 'Solar Roadways' by re-purposing national highways with photo-voltaic panels could potentially power an entire country.
Newly conceived solar roadways are changing the face of national highways through photo-voltaic panels which are capable of directly inputting energy into the grid. If realised, the concept could essentially power an entire country with the generated electricity.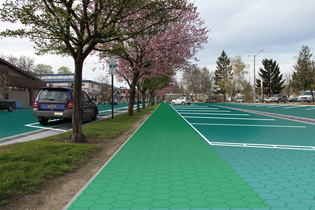 Now in its second prototyping stage, the project has been further developed as a modular photovoltaic (PV) paving system that can withstand the heaviest of trucks – up to 120,000 kilograms. The plan would see the 'solar road' panels installed on highways, parking lots, driveways, sidewalks, bike paths and even playgrounds.
The system is based on centralised power stations and distribution is handled through transmission lines and relay centres. Each panel has its own microprocessor, which communicates wirelessly with the surrounding panels – they monitor each other for malfunctions or problems. The full size hexagons utilise 36-watt solar panels, with a 69 per cent surface coverage by solar cells, and excess power produced by the system can be used to feed energy requirements of surrounding neighbourhoods.
The technology will allow electric vehicles to be able to charge with energy from parking lots and driveways, and after a roadway system is in place, mutual induction technology will allow for charging while driving.
SEARCH
SUBSCRIBE TO ENEWS
MORE NEWS
WORLD-LEADING SOLAR STREET LIGHTING
PROLUDIC JOINS AILA
HIGH-QUALITY PLANT STOCK
BRINGING TOGETHER THE BEST IN LOCAL DESIGN
MULTI-DIMENSIONAL DESIGN
WHEELCHAIR ACCESSIBLE STREET FURNITURE