SINGAPORE RAIL CORRIDOR REVIVAL
02 Dec 2015
A major overhaul of the historic Singapore Rail Corridor is due to begin in 2016. The new master plan will incorporate a range of public spaces designed to promote urban growth and rural connectivity.
A competition to create a masterplan for the 26 kilometer former Singapore Rail Corridor has been awarded to a design team led by Nikken Sekkei. In collaboration with Tierra Design and Arup Singapore, the proposed design – Lines of Life – will span the entirety of Singapore and provide a range of public amenities surrounded by lush greenery.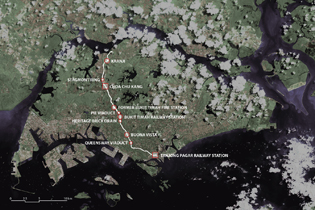 For close to a century the Singapore Rail Corridor was used to route trains from the Malaysian Peninsular to Singapore. The rail corridor traverses across the entire island of Singapore along its north-south axis. Operations on the rail line ceased in 2011, with the lands reverting back to the Singapore government. During the past few years the government has been evaluating its conversion to green space for recreation and non-vehicular passage. Its limited connectivity to the surrounding environment and the people has been one consideration in determining what is to be done with the site.
Chosen by a panel from Singapore's Urban Redevelopment Authority (URA), Sekkei's design teams' winning master plan will integrate into the surrounding area green spaces, walkways and bicycle paths, along with a range of surrounding developments that will be implemented over the coming years as a part of Singapore's urban growth, connecting the rail corridor to more populated areas.
The design team's proposal states, "Lines of Life sets out a vision for a seamless public space, the preservation and reintegration of existing green areas and a relaxed extension of modern life. The proposal devises a strategy of design criteria and objectives to make the Rail Corridor inspiring, accessible, comfortable, memorable, eco-friendly and growing/evolving, as it 'stitches the Nation with Lines of Life'."
Included in the design is a series of nodes that will form the basis of a range of amenities such as toilets, showers, rest stops, water points and cycling facilities that wills stretch along the entire rail corridor. The Station Garden accommodates amenities like a bicycle station, and a café, as well as spaces for larger events like the Green Corridor Run.
A hub for eco-based activities such as camping and educational programs is created with a lookout tower to enjoy a panoramic view of the Bukit Timah Nature Reserve, and a vibrant and dynamic plaza that can hold outdoor events will be created to cater to both the adjacent One-North Business Park community and surrounding Queenstown residents.
The design team is now tasked with carrying out the preliminary design and feasibility study on an initial 4km signature stretch of the corridor.
SEARCH
SUBSCRIBE TO ENEWS
MORE NEWS
NEW RECREATION CENTRE FOR SYDNEY
UN-HABITAT'S URBAN RESPONSE
WASTE NOT WANT NOT
MARBLE ARCH HILL
BENEFITS OF TRAVERTINE PAVERS
OUTDOOR LEARNING MADE COMFORTABLE