SCHOOL PROJECT GETS GOLD
18 Oct 2017
Utilising the expertise of landscape design firm OUTHOUSE Design, Knox Grammar School has recently completed a stellar outdoor classroom and gathering space for its Senior Secondary Academy.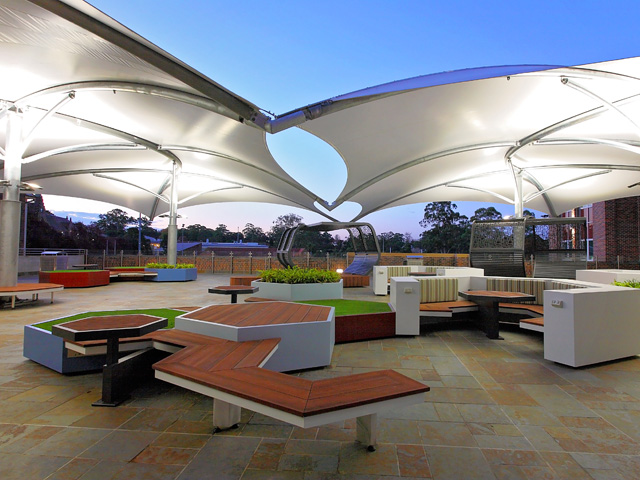 Working in collaboration with OUTHOUSE Design, Knox Grammar undertook a much-needed upgrade of their upper balcony space in order to create a contemporary space that promotes the values of wellbeing for all students and the broader community.
Measuring over 1000m2 in size, the balcony area of the prestigious school was originally covered in black tiles that readily absorbed heat, making the area extremely hot and discouraging students and staff from fully utilising in the space. Eager to create a space that offered an array of uses, a design brief was created to make the most of the area, which included:
A garden space that offers a tactile, empowered and relaxing environment. The garden needs to include learning areas suitable for group of individual activity, and support external class learning.
The ability to accommodate large gatherings, with seating areas that encourage relaxation and interaction.
Barbecue facilities and function spaces.
Construction should be completed using materials that present a clean and crisp aesthetic and offer longevity with minimum maintenance – able to withstand heavy use in the school environment.
Shade and sun protection is vital. An appropriate shelter system needs to be installed, with a design sympathetic to the historical integrity of the building.
The resulting space is a harmonious design of flexible spaces comprised of contemporary elements that offer an attractive blend of both form and function. Wide spanning shade canopies stretch over the area in an elegant cover of connected forms. Well lit, the area is functional both day and night.
Attractive seating nooks and benches offer plenty of versatile options that encourage users to gather and relax. The irregularly shaped seating arrangements are mirrored in various other hardscaping additions, like the planter boxes. Containing lush low spreading plants in vibrant greens, the planter boxes bring in a natural element that softens the overall space.
Pops of colour are scattered throughout, on seat cushions and painted elements, with warm timber adding yet another tactile layer. Selected for their versatility and durability, Lichen floor tiles bring in yet more colour to create an overall attractive aesthetic.
Sculptural seating structures with overhead shelter offer the illusion of seclusion, making them the perfect study nook or collaboration space for students or staff. A large barbecue area also meets the School's brief for a functional area dedicated to functions.
Having conveyed their specific site requirements to OUTHOUSE Design, the School was overjoyed with the end result. "We had very specific safety requirements that were conveyed to the designer and then considered as part of the overall design. The spaces have been well designed and use a combination of architectural and textile elements to give it depth and interest and make it appealing for our senior students," claims the School.
"Since the opening, the spaces have been enthusiastically embraced by the boys and staff, with many teachers booking the outdoor classroom spaces for their lessons as well as students frequenting these spaces during breaks and for study periods. The space is versatile and can also be used for special events such as outdoor lunchtime concerts and drama performances.
"Working with a designer has enabled us to achieve an outstanding amenity that is multi-functional and fit for purpose."
PROJECT CREDITS
Construction by Urban Garden Enrichment, PO Box designs, and Set in Steel.
ABOUT OUTHOUSE DESIGN
OUTHOUSE design is an award-winning landscape architecture and landscape design practice that is passionate about creating the 'outdoor living experience' and focused on creating landscapes that will leave a legacy for many years to come.
At the recent 2017 AILDM Awards of Excellence, OUTHOUSE Design was awarded 2 Gold Awards and the prestigious National Design Award for their excellent work on the Knox School project.
Images © Peter Brennan
SEARCH
SUBSCRIBE TO ENEWS
MORE NEWS
ALBANIAN SQUARE TAKES OUT PUBLIC SPACE AWARD
CRESCENT PARK LINKS THE BIG EASY
THE POWER OF A PUBLIC MEMORIAL
THE MEMORIAL WAY
NATIONAL LANDSCAPE AWARD WINNERS 2018
LV LANDSCAPERS INDUSTRY AWARDS