SAFE LANDING AT THE GROVE
12 Apr 2018
The very first of its kind in Australia, Proludic's all-inclusive cargo plane was installed at the new playscape within The Grove in Tarneit, Victoria, and provides an innovative playspace for children of all ages and abilities to enjoy.
The new playground at The Grove was designed with an all-inclusive aspect in mind. Proludic, in keeping with this theme, designed play equipment that went above and beyond to provide opportunities for play to all children, including those with physical, learning, and sensory disabilities. The Cargo Plane was chosen by The Grove community for its high play value and exceptional accessibility and will provide a fantastic play facility that can be enjoyed by each and every child.
Proludic's design approach for the playground followed the company's universal design principles for the integration of disabled children in play areas and includes a wide range of exciting features.
Easy Access Around and in the Aircraft
The design of the 17m long Cargo Plane (J2690) meets the needs of children with disabilities by incorporating specific facilities (ramps, wide platforms) and an appropriate selection of play activities. A wheelchair accessible ramp and a large space inside enable children in wheelchairs to play with other children, regardless of the different abilities of each child. There is also plenty of room for carers to assist.
The Cockpit
The cockpit has two control columns, one of which can be accessed and used by a child seated in a wheelchair. The instrument panel incorporates a play panel to encourage fine motor skills.
Educational Play Panels
Located inside and readily accessible, the play panels provide manipulative play and concentration activities. They help with vision, observation and hand-eye coordination.
Pod Swings
With its large wraparound seat, the Pod Swing is reassuring, both physically and psychologically. It combines motor coordination and sensory stimulation while encouraging social play. Children of all abilities are able to enjoy swinging together, and there is room for an accompanying adult to join in and provide support.
Additional Play Equipment
Additional play equipment that matches the aeronautical theme includes an Aviator character Play Panel, Stella Springer (J856) and Looping Plane Springer (J3961) which encourage role play, imaginative play and social interaction of younger children. Older children will have lots of fun riding the Double Spring Perch (J986) that is also included in the playground.
Contact Proludic to find out more about the innovative J2690 Cargo Plane and the company's commitment to inclusive playground design via the links below.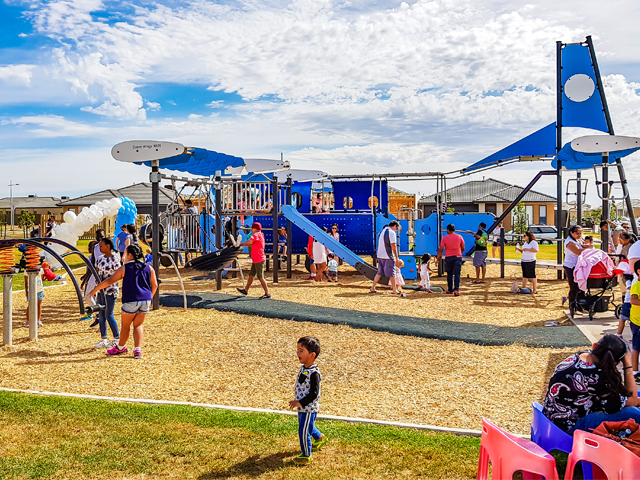 SEARCH
SUBSCRIBE TO ENEWS
MORE NEWS
PLAY AREA SAFETY
THE POSSUM POD