ROTTERDAM'S NEW ART DEPOT
11 Nov 2015
A design for a new 'art depot' for the Museum van Beuningen has been approved in The Netherlands. On the site of Museum Park, the extension will be home to a wealth of private and public art collections.
Due to open its doors in 2018, the 'collection building' is a mirrored cylindrical design that will serve as the public art depot in Rotterdam. Designed by Dutch firm MVRDV, the project has been given the green light.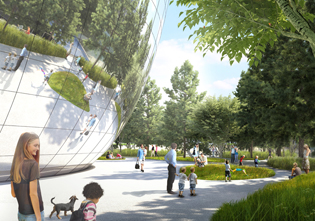 Based at the edge of the City's Museum Park, the dynamic storage and arts building for the Museum Boijmans van Beuningen will total a 14,000 sqm area of private and public art collections, storaged space and a sculpture park; all housed in a cylindrical volume with a reflective façade surface. The reflective glass mirrors the surrounding area allowing the building to fade into its environment.
'It is fantastic that the public art depot will be realised,' says Winy Maas, principal architect and co-founder of MVRDV. 'In this way the entire population can share something that is normally hidden behind closed doors.'
At the entrance, the public route will zig-zag around the central atrium, weaving through the diverse array of precious art collections owned by the city of Rotterdam. The path ends on the roof, where the restaurant, a garden, and the sculpture park present sweeping views of the city.
With the current art depot built below sea level, it is constantly at risk of flooding. The new storage facility will enable it to be protected. The Museum Boijmans van Beuningen will showcase European art from the Middle Ages to the 21st century, though being primarily a storage facility, only 40% of the project will be visible or accessible to the public.
Offering a commercial service for clients, the building will also enable collectors to visit their art and enjoy it in private spaces – the artistic equivalent of a sky box. Additional depots and an office of the philanthropic foundation De Verre Bergen will also be accommodated within the bowl-like structure.
SEARCH
SUBSCRIBE TO ENEWS
MORE NEWS
A SCREEN WITH A VIEW
AUTHENTIC LE CHÊNE VERT ANDUZE POTS
LANDSCAPE ON THE ROCKS
MRTRAMPOLINE DELIVERS ON STRENGTH AND DURABILITY
THE ADVANTAGES OF GRC PLANTERS
CUSTOM GRC: THE AFFORDABLE CHOICE