RISE OF THE KRAKEN
19 Jun 2018
A giant sculptural sea monster, or 'Kraken', has been constructed within the otherwise serene surroundings of the Val D'escreins nature reserve in France. The artist, APACH, wanted to develop a story of the beast's journey based on the remains of the historic village.
French artist and creative explorer APACH — the pseudonym of Thomas Voillaume — has created a giant sculptural and skeletal sea squid that appears to emerge from the architectural ruins of the former village. The site's mysterious previous life and eventual destruction was of great interest to the artist, who developed a story of a beast's momentous journey, based on the structural remains he discovered in the area.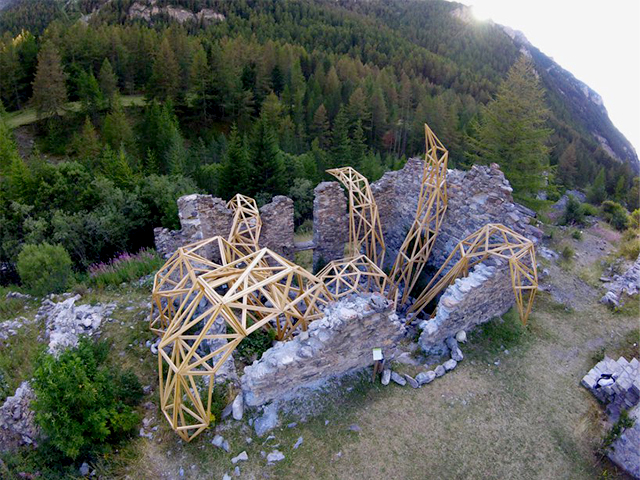 Emerging from the ruins at Val D'escreins, APACH's Kraken is seamlessly integrated into the landscape — both natural and artificial.
The artist describes the narrative around the piece: "What happened in this village that is no more than a ruin? In 1916, for mysterious reasons that give free rein to legends, the village was burned down. In the absence of the men mobilised during the war, it could not be saved and was abandoned.
"Was it a fire? Arriving in this remote valley of the world, in this ruined old village with gutted houses, overhung by mountains with sharp peaks, looking at these old stones beaten by the times, it seemed to me to be a story, that of the mountain Kraken, a fierce beast, a monster of the ancient times who lives in high altitudes and is feared by valiant mountaineers."
APACH's interpretation has given way to the stunning sculptural work, which calls visitors to activate their imaginations and create their own fantastical version of the village's tragic past.
SEARCH
SUBSCRIBE TO ENEWS
MORE NEWS
A DROP OF GLASS
SEEING SPHERES
DIVING FOR ART IN THE MALDIVES
TREE SCULPTURES GROW IN MONTREAL
TROLLS IN THE FOREST
RECYCLED WHALE BREACHES IN BRUGES