REDUCE REUSE RECYCLE
02 Sep 2011
Vasili meets a Victorian garden designer who has turned recycling into an art form
Reduce Reuse Recycle

Vasili meets a Victorian garden designer who has turned recycling into an art form

She's an inspiration to all those hoarders out there (you know who you are) who don't have a clue what to do with their collection.

Combine the need to reduce waste, a vaguely creative streak and a passion to save the planet and you have someone whose guiding principles in life are to touch the earth as lightly as possible, leave the faintest of footprints and make as much of a contribution to the environment as she can. That's Louise.

"It's so easy to put something into a recycle bin, feel as though we're doing a great service to the planet and not think twice about the energy needed to convert it back into a usable object."


Let's face it, we all have junk lying around our homes and gardens and not many of us are innovative enough — me included — to know how and what to use it for.

A few months ago, we moved house and what a daunting experience it was. Why is it so hard to throw anything out? I'd go to toss something on the trailer ready for the Salvos or the tip and on other side of it would be my darling wife — unloading it again! After much deliberation, we moved 20 trailer loads into the new residence and only one to the Salvos.

Settled in our new home, I went outside recently for a breath of fresh air and, as usual, took a look around to see how everything was growing. What did I see? Stockpiled in the far corner of the garden were old lengths of timber, metal, scaffolding, an old gate, bricks, a couple of battered wine barrels and humungous stainless-steel rangehood.

Because my better half couldn't part with her junk, stubbornness caused me to do the same and now it all sits in the corner of our property haunting us every day.

I never gave much thought to the old saying "one person's trash is another's treasure" until I had the pleasure of visiting Rushworth resident, Louise Costa. She's an inspiration to all those hoarders out there (you know who you are) who don't have a clue what to do with their collection. In my book, Louise would have to be the queen of recycling.

When Louise was six, she dropped a box of cornflakes on the kitchen floor. Her uncle found her with a brush and dustpan, sweeping them up and pouring them back into the box. Although she doesn't remember the incident, her uncle gladly reminded her of how the tiny Louise stood up and said. "Waste not want not — that's what I always say."

"Waste not want not" is Louise's inherited catchcry. It came from her grandparents, who not only didn't throw anything away but mended, modified and modernised anything and everything so it wasn't wasted.

It also came from The Wombles. Yes, The Wombles of Wimbledon, those fictional pointy-nosed, furry creatures that live in burrows, helping the environment by collecting and recycling rubbish in useful and ingenious ways ... "We make good use of the things that we find, things that the everyday folk leave behind."

"I grew up with their great influence," says Louise, "which kind of gives my age away!"

Combine the need to reduce waste, a vaguely creative streak and a passion to save the planet and you have someone whose guiding principles in life are to touch the earth as lightly as possible, leave the faintest of footprints and make as much of a contribution to the environment as she can. That's Louise.

Somewhere along her journey, though, she knew she still needed to earn money to survive in today's world, so she decided to follow her heart and become a garden designer. Enduring city life for four years while she studied Landscape Architecture at RMIT, she was so unsettled in the Big Smoke that she moved house seven times.

"Never did feel at home there, but now I have a Bachelor of Landscape Architecture (BLA). Louise Costa, BLA. Bla, bla, bla," she jokes.

After travelling, Louise returned to the Goulburn Valley, where she started her landscape design and construction business, Design By Nature, specialising in drought-tolerant garden design and reusing waste objects (usually from the tip) for retaining walls, paving, feature panels, clothes lines, sculpture and more.

"To be honest, at the time I couldn't think of anything else to do. I still can't," says Louise. "I get to do everything I was doing when I was a kid, but on a larger scale, of course."

These days, Louise employs three labourers. They call themselves, Design By Nature, Making Waste Matter, with the emphasis on Matter and not on Making Waste. In fact, they do their best to reduce waste.

"I think it's funny that as a society we tend to ignore the 'Reduce, Reuse' bit and go straight for the 'Recycle'. I actually believe that one of the biggest environmental problems of our time is our laziness and greed," says Louise.

"It's too easy to put something into a recycle bin, feel as though we're doing a great service to the planet and not think twice about the energy needed to convert it back into a usable object. It's also easy to buy a cheap product, knowing that when — not if — it breaks, you can get a new cheap one under warranty. The broken one gets to fill a hole somewhere.

"How many times have you heard someone say, 'I can buy 10 of these for the price of that one?' That's 10 holes somewhere. If we could just focus back on the 'Reduce', perhaps instead of holes we'd have plants for birds to build nests in."

That's simple but great advice from a woman who has built practically everything she owns using recycled materials, from the shearing shed and miner's cottage she has converted into her home to the entire garden.

Louise is a regular at the local tip, finding old telephone poles to use as posts for a pergola, rusted bed springs for training jasmine to climb on and even old star pickets with wire woven through to create a fence. It's truly amazing to see and the atmosphere is wonderfully relaxing and peaceful.

In fact, after visiting Louise I don't feel so bad after all. Now I know I can use all that scrap material I've collected to build something great for the garden. I don't know what yet, but it will come to me...

Reduce, reuse and recycle! For inspiration, visit Louise's blog at www.design-by-nature.spaces.live.com

Louise's tips for creating a happy and healthy environment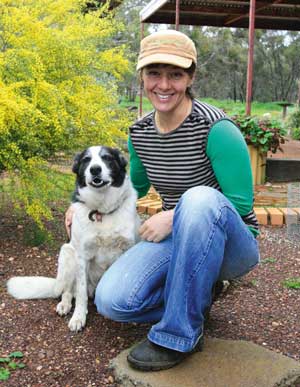 Good design is crucial to the success of any garden. Unless you are a confident gardener, commission a reputable garden designer and get the plan right from the onset. "The money you spend on this will be saved in years of trial and error with unsuitable species planted too close together. Plants are expensive, so a good planting plan could save you hundreds of dollars.
Everywhere, even the city, was once covered in Australian native plants. Find out what they were in your area and use them in your garden design. There are always great indigenous alternatives to European flowering shrubs, groundcovers and even cottage-style plants.
The exception to this is to have a food garden and grow as many productive plants as you can. The more we are able to provide for ourselves, the more energy we save on transport, the fewer chemicals are thrown around the planet and the better you will feel about your health and ability to sustain yourself. And it really is fast food — just step out your back door. How fast is that?
Reduce demand. Always look for second-hand alternatives. Almost every new thing we consume already exists in an older form. For example, if you want to pave your courtyard, instead of buying those brand-new, sandstone-look pavers, consider second-hand, solid bricks or pieces of broken concrete. They are usually less expensive and will give your garden an aged look the moment the job is finished. They may be a little harder to find but just think what other treasures you may find on the way.
SEARCH
SUBSCRIBE TO ENEWS
MORE NEWS
GROUNDCHERRIES GROWING STRONG
SMALL SPROUTS FOR SEEDS, GIANT GROWTH FOR PLANTS
GROWING BETTER CHOCOLATE
3D PRINTED TREE POTS
A SPARK OF GREEN
SELF-SUFFICIENT POP-UP GREENHOUSE