REDUCE COSTS & INCREASE LIGHTING EFFICIENCY
26 Apr 2016
Solartechniq WF-EF solutions address issues of efficiency and control in energy management with a range of products for commercial lighting applications.
The future of all energy management including lighting is about efficiency and control. Solartechniq WE-EF solutions address both of these issues as well as reducing installation and recurrent costs.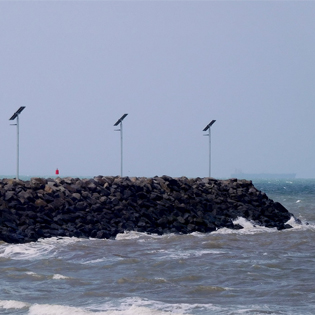 WE-EF luminaires are at the leading edge of lighting efficiency in energy management and light distribution to optimise performance. WE-EF luminaires incorporate technology which ensures precision light distribution and uniform illuminance. The recently introduced the VFL520 LED luminaire with the new [P65] lens is especially beneficial in providing safety on cycle paths. The 'side throw' and illuminance-optimised [P65] lens, in combination with the compact design of the VFL520 LED luminaire, specifically address the task of cycle and footpath illumination.
Solartechniq components provide the opportunity to deliver designed lighting solutions where grid electricity is not available and also with significant control opportunities. Solartechniq WE-EF systems can be provided with customer specified time based programs, motion sensing or cloud based control and monitoring.
Our control systems enable lighting solutions to be provided efficiently, and specifically matched to customer requirements.
Contact a SOLARTECHNIQ SALES PARTNER for information or download our complete FAQ document HERE
SOLARTECHNIQ | 1300 660412 | zerocarbonlight@solartechniq.com
SOLARTECHNIQ SALES PARTNERS
NSW | Stramac Lighting, +61 02 4969 6555, mat@stramaclighting.com.au
VIC & SA | Buckford Illumination Group, +61 3 9646 8201, info@buckford.com.au
TAS | Southern Lighting & Distribution, +61 3 6231 5599, info@southernlighting.com.au
WA | H.I.Lighting, +61 8 9377 1322, reception@hilighting.com.au
NZ | Mark Herring Lighting, +64 3 3656020, +64 9 5510500, mark@lights.co.nz
NSW & QLD | SCULLY OUTDOOR DESIGNS, +61 2 9531 4166, shane@scully.net.au

SEARCH
SUBSCRIBE TO ENEWS
MORE NEWS
AN ENDLESS LINE OF LIGHT
INNOVATIVE NEW SOLAR GENERATOR FOR MULTIPLE APPLICATIONS
SOLAR SOLUTIONS FROM MULTIPOLE
INNOVATIVE NEW SOLAR GENERATOR FOR MULTIPLE APPLICATIONS
A BRIGHT FUTURE
A BRIGHT FUTURE FOR LIGHTING