RAILWAY-THEMED PLAYGROUND ART
10 Dec 2014
Give your playground a unique look and further enhance imaginative play opportunities with Proludic's Grafic Games play equipment.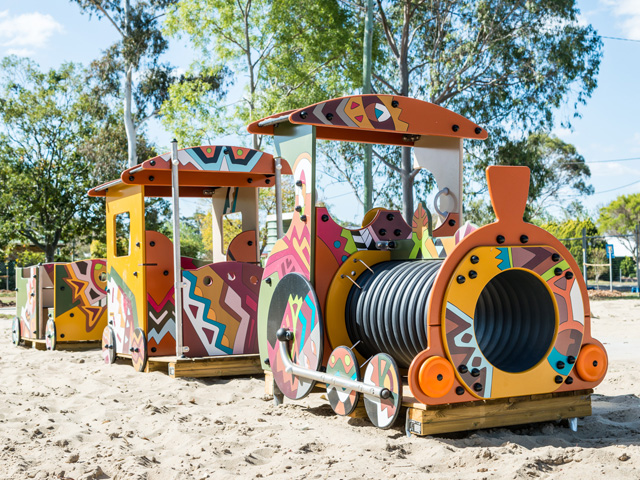 Proludic's unique Grafic Games play equipment has been selected by Toowoomba Regional Council for a railway themed playground to enliven the park and further enhance imaginative play opportunities.
Grafic Games colourful and artistic play equipment by Proludic can now be seen at Grand Street Park in Pittsworth, a community recreational facility of Toowoomba Regional Council.
Grand Street Park is located in Pittsworth, a township west of Toowoomba on the Darling Downs in Queensland. The playground had become dilapidated and required upgrading. Grand Street Park is located close to a railway line which remains an important feature of the town landscape. Toowoomba Regional Council decided to build on the railway theme and selected Proludic's innovative Grafic Games Little Train play equipment for the renewal of this playground.
The Grafic Games "Etnik" style was selected to enliven the park and provide a visual focus from the street as the surrounding landscape can be very dry and brown. The strong theming of the Little Train items and the Etnik graphics enhance the imaginative play opportunities and create an attractive, colourful playground for the community.
Grafic Games is a concept that is unique to Proludic and involves applying distinctive, decorative graphics to Proludic play equipment. Six different themes are available and include Grafic, Oceane, Etnik, Amazon, Medieval and Metropolis.
In addition to the themed graphics, our designers are also able to create personalised design solutions to ensure that your playground is unique and in keeping with a particular theme, local history or culture of a site. Corporate branding and signage solutions are also available with Grafic Games.
For further information on Proludic's Grafic Games or for assistance with your playground projects please contact us at info@proludic.com.au
Photos (top to bottom): Grand Street Park Toowoomba; Graphic Horse; Corporate Branding for Holiday Park; and Antarctica theme concept.
SEARCH
SUBSCRIBE TO ENEWS
MORE NEWS
AUSTEK PLAY BRINGS THE FUN WITH NEW UNSTRUCTURED PLAY
READY TO CONSTRUCT SPLASHPARKS FROM PLAYSCAPE CREATIONS
GYRO MULTIDIRECTIONAL SWING FROM ADVENTURE+
PRIVATE SKATEBOARDING FROM NB2
PARK WARRIOR COURSES FROM A_SPACE
WATERPLAY FROM MARCUS CONSTRUCTIONS