PREMIUM PLAYGROUND EQUIPMENT
28 Jun 2018
One of the outstanding features of The Surrounds community by Villawood Properties is it's exciting, state-of-the-art Central Park playground. Featuring a wide array of fantastical play systems, the team at WillPlay endeavoured to create a playscape that will excite kids of all ages.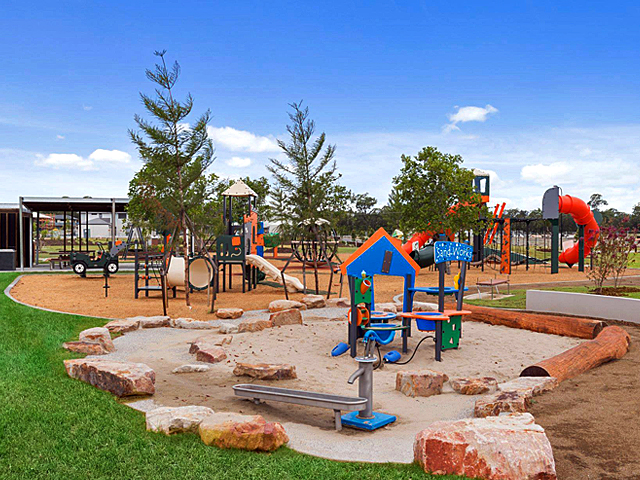 The new playspace at The Surrounds is the main feature of the Central Park precinct. WillPlay, with their extensive knowledge of play equipment, play spaces and installation processes, were the ideal choice to provide the perfect supplies for the new playground. The area provides a place for the kids to run around and play while the adults cook up a storm on the barbecues or share a glass of wine at the picnic tables.
The playground features a variety of WillPlay's award-winning play systems, including their largest ever Boxie Climb, an exciting play system that includes climbing robes, climbing walls, a swing and three colossal slides. The Fairytale System is a crowd favourite, painted in bright colours and finished in powdercoated marine grade aluminium, the set is sturdy, safe and provides hours of fun.
The Boxie Climb and Fairytale System feature the following, recycled and high-grade materials:
UV stable post-consumer recycled HDPE
Powdercoated marine grade aluminium
Stainless steel fasteners
16mm woven nylon rope
Nylon and aluminium rope fittings
Roto moulded plastic
Aluminium reinforced rubber seats
16mm woven nylon baskets
Also included in the mix is a thrilling spinning orb, a toddler sand play unit, a PlayPark system and a set of in-ground trampolines.
WillPlay is known for their high quality and sustainable play equipment that offers an extensive variety of activities in brightly coloured and exciting play systems. The diversity of play equipment ensures that kids of all ages and interests will be able to enjoy The Surrounds playground for all day every day.
SEARCH
SUBSCRIBE TO ENEWS
MORE NEWS
BOAT-THEMED PLAYGROUND BY THE RIVER
NATIVE PLAY
RICHTER PLAYSPACE ARRIVES IN TASMANIA
360-DEGREE NETTED TERRAIN PLAYSPACE
NATURAL TIMBER PLAY STRUCTURES
PLAY AND FITNESS EQUIPMENT YOU CAN TRUST