PLAY EQUIPMENT THAT ENCOURAGES LEARNING, DISCOVERY AND INVENTION
28 May 2014
Proludic has added to its TEMA range with new, compact, multi-play structures for young children in three new themes: City, Adventure and Metropolis.
Our TEMA range promotes imaginative play by offering a wide range of themes that are popular with children. TEMA is ideal for children aged from 2 to 8 years.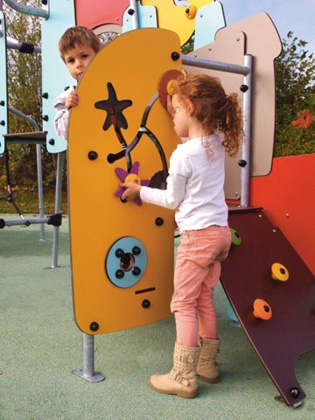 The concept of the TEMA range is to provide all-in-one play equipment units that are suitable for use in compact play areas. The new TEMA items provide four structures of increasing size in each theme with play features that present children with physical challenges and opportunities for socialising. Each TEMA structure is decorated in a particular theme that also encourages imaginative play and stimulates cognitive development.
Great attention has been paid to the design details of each TEMA unit. There are many manipulative features that encourage children to explore the senses of sight, sound and touch and to develop the concepts of logic and consequences. These features also help to stimulate the imagination of children. They become fire fighters, astronauts, shopkeepers, explorers etc.
We encourage you to discover Proludic's new TEMA Worlds:
Tema CityThe city never sleeps and there is a constant hive of activity. A station with its clock tower, a grocery store shop, a house that has caught fire, a fire engine, a tug boat - the stories are never ending!
Tema AdventureWild animals, hidden temples – the jungle is full of surprises. Become the next explorer in search of an adventure!
Tema MetropolisReady for take-off in a fantastic flying machine - welcome to the world of Jules Verne and his incredible inventions!
To find out more about Proludic's New TEMA please contact us at info@proludic.com.au or 02 9485 8700.
Images (top to bottom): Tema City; Tema Metropolis; Tema Adventure; Tema Adventure Explorer; and Tema City Play Panel.
SEARCH
SUBSCRIBE TO ENEWS
MORE NEWS
3 INDICATORS OF AN EFFECTIVE OUTDOOR PLAY SPACE
READY TO CONSTRUCT SPLASHPARKS FROM PLAYSCAPE CREATIONS
GYRO MULTIDIRECTIONAL SWING FROM ADVENTURE+
CUSTOMISED OR BESPOKE PLAYGROUND: WHICH IS BEST?
PARK WARRIOR COURSES FROM A_SPACE
ART MEETS PLAY WITH BLADE RECREATION