PINNACLE+ REACHES NEW HEIGHTS
11 Nov 2015
Covering all aspects of rope play, the pinnacle+ range includes steel frame structures, centre mast structures and modular structures that offer new challenges through play.
In collaboration with Landscape Architects and Municipal Departments, adventure+ has extensive experience in the playground field, developing brilliant play innovations for over 30 years.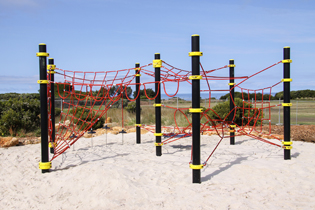 Recognising the growing demand for rope based play several years ago, adventure+ researched, developed and created the pinnacle+ range of rope structures. Covering all aspects of rope play, pinnacle+ includes steel frame structures, centre mast structures and modular structures.
Ranging from small modular rope components to 9.3 metre high structures, pinnacle+ has got everything the designer needs. Streamlining the research and design process, a DWG file is available for each structure, enabling them to be quickly and easily placed into landscape plans, saving time and effort.
adventure+ understands how important it is for Architects to create something 'different' in their designs, and this large range of unique structures is the perfect solution. Structures can be enhanced by customising both the steel and the rope colour, allowing designers to tailor each structure to coordinate with the surrounding environment, or to meet specific colour requirements such as the overall development colour scheme.
While pinnacle+ structures may appear to be a complex arrangement of rope, special attention has been given to ensure that installation and maintenance is kept as simple as possible. Some units are even designed to eliminate the need for concrete footings, thus reducing costs and allowing them to be installed at a greater range of sites.
With carefully researched and proven design features such as the specialised frame connections, rope tensioning points and highly durable wire cored rope, these structures are built to stand the test of time. Not only will they provide countless hours of fun for the kids, they give you the peace of mind that only comes from knowing that your playground is both safe and robust.
Experienced in playground Standards and smart playspace design, adventure+ consultants and designers are always willing to help.
SEARCH
SUBSCRIBE TO ENEWS
MORE NEWS
PREHISTORIC PLAY
CREATING INCLUSIVE PLAYSPACES WITH SIDE-BY-SLIDE™
REACH FOR THE SKY WITH AIR JUMPERS™
A TON OF FUN WITH PROSLIDE'S MAMMOTHBLAST
INCLUSIVE PLAY AT TRESILLIAN PARK
COASTAL PLAY WORTH THE CLIMB