ON THE UP AND UP
05 Aug 2015
Picture this - a garden wall of spring flowers or your favourite herbs and vegetables … with PAPS Vertical Gardens anything is possible.
A vertical garden is a great way to add colour and life to an outdoor space. PAPS Vertical Gardens has designed an easy-to-use vertical garden system that's ideal for balconies, courtyards, decks or even larger backyards.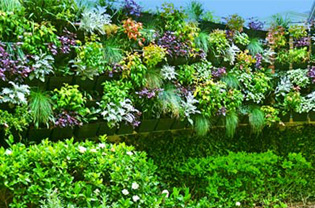 This innovative new system, developed in consultation with leading horticulturalists and landscape designers, offers the simple-to-install, cost-effective green wall solution the market has been waiting for.
The system comprises a slimline frame and pots, which simply hook on and off the frame. You can choose between a freestanding frame (1500mm high, 600mm wide and 300mm deep) or a wall-mounted frame (1320mm high, 600mm wide and 250mm deep), which comes pre-drilled.
Both frames are powder-coated, hold 18 pots and, at your request, can be fitted with a simple drip irrigation system added that waters from the top down. Designed to suit a large range of plants, the recyclable, UV stabilised pots come in boxes of 10.
The system can be bought online, at leading nurseries and garden centres throughout Australia or from the PAPS Vertical Garden Display & Garden Centre in the Melbourne suburb of Caulfield South. This is a one-stop-shop for all your vertical gardening needs, from organic soil (with the right nutrients and drainage for green walls) to plants.
The garden centre also offers a swap-a-pot service, which means you can purchase a pot once and then swap it for the cost of a new plant.
PAPS Vertical Gardens' speciality is green wall design and consultation, the cost of which is deducted from your purchases if you buy your plants and vertical garden system from PAPS Vertical Gardens. The company also provides an installation service, which comes with a three-month free maintenance program. They also offer ongoing maintenance at very competitive prices.
For more information visit PAPS Vertical Gardens at www.papsverticalgardens.com.au
Like us on Facebook
SEARCH
SUBSCRIBE TO ENEWS
MORE NEWS
GREEN WALLS CONNECT CITIES TO NATURE
ECO-TOURISM TAKES FORM IN DESERT
MARCUS CONSTRUCTIONS BRINGS GREEN TO AUSTRALIA
THE VERACITY OF VERTICAL VEGETATION
URBAN CANOPEE HAS COME TO AUSTRALIA!
REC CENTRE WITH GROWTH POTENTIAL