NO OFF-GRID HUTS HERE
01 Jun 2016
Described as an "eco-friendly lifestyle", this green village scheme in South Africa offers a model for sustainable living to the highest standards with a contemporary design and all the luxuries of modern life.
The Live – Work – Play ideology of a new mixed use development in South Africa strives to fulfill a vision "to create a safe, environmentally friendly, car-free village for all ages". Developed by architecture firm Swisatec, Blue Rock Village is an ambitious plan for a new eco-friendly standard of living in line with green living codes and standards.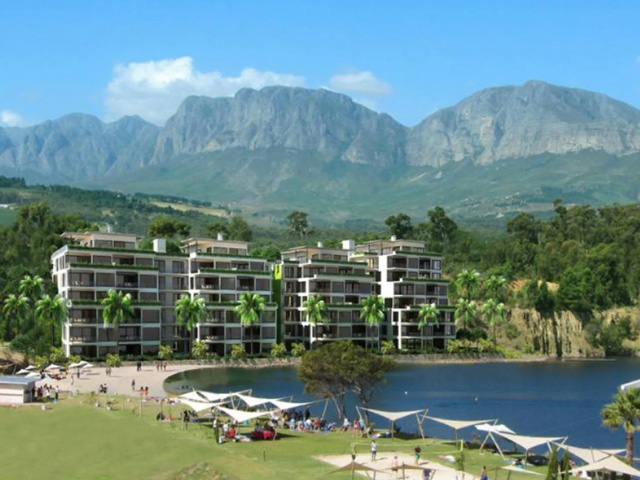 The green village will be located 40 minutes from Cape Town on the banks of the cleanest and clearest lake in the western region – Blue Rock Lake. The self-sufficient village proposes a wealth of facilities that provides everything one could possibly need, including schools and health care centres, hotel and conference facilities, as well as a vast selection of sport and recreation options.
Set on close to 100 acres of land, Blue Rock Village will contain 1000 apartments and be powered by solar energy. The village will also be completely car free. Geared to pedestrians, the eco-village will remove vehicles from the streets to create interactive and pedestrian-safe zones for residents. However, this does not mean that everyone has to surrender their cars. An underground parking facility will be incorporated into the development to allow residents to access transportation in and out of the village as needed.
Using strict architectural guidelines, the public spaces in the development will form the centre of the village to encourage interaction and provide ample space for greenery. The public spaces will consist of tree-lined cobblestone roads with plenty of areas for congregation and ample opportunity for residents to interact with nature and each other. Landscaped trails accommodate walking, hiking, mountain biking, running and walking.
Construction will take place with environmentally-friendly building materials and construction methods. Each apartment will have energy efficient appliances, LED lighting and water management systems. Solar energy will also play a large part in the development, with solar-water heating systems and self-generating solar power systems to be installed, and temperature control measures will be incorporated in each apartment.
The multi-functional Lifestyle Centre that sits at the heart of the development will allow residents to socialise and take advantage of a wide selection of restaurants, shops and a range of other social activities. Lake access offers a variety of water sports and adventures.
If residents are worried about safety, they needn't be! The developers have considered their peace of mind and come up with a range of state-of-the-art measures that include biometric access control and CCTV, as well as electric perimeter fencing.
The new green village will begin construction late in 2016. Construction is projected to cost somewhere in the neighbourhood of 14 billion rand (1.23 billon AUD) – a nice neighbourhood to be sure.
SEARCH
SUBSCRIBE TO ENEWS
MORE NEWS
HUSQVARNA CHAMPION OF CHAMPIONS: LANDSCAPER OF THE YEAR ANNOUNCED!
AUSTRALIAN-MADE RESTROOMS
EXCITING THINGS TO COME
ENCHANTED BOTANIC GARDENS
DANCE FLOOR TO DIVING PLATFORM WITH BLUECHIP TRAXION
INCLUSIVE PLAY AT TRESILLIAN PARK