NEW PLAYGROUND STANDARD BOOSTS PRODUCT PORTFOLIO
19 Mar 2014
KOMPAN almost doubles its product portfolio and announces an exclusive partnership with Sik Holz.
The new Australian Playground Standard AS4685:2014 (EN1176:2008) is expected to be published in the next three weeks.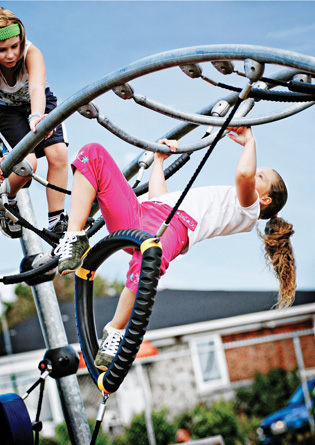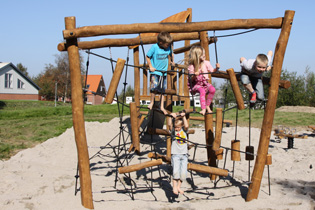 Clive Dodd, Director of Consulting Coordination, says "The free height of fall (FHOF) allowed under the new AS4685:2014 is a maximum of 3.0 metres being 0.5 metres higher than the existing AS4685:2004 standard."
The introduction of this new Australian standard has meant that KOMPAN have been able to drastically increase their product offering. Sue Simpson, Managing Director of KOMPAN said 'This new standard represents years of collaboration from many parties and we are delighted to be able to open our existing product portfolio to depths never seen before, in total 555 new products for the Australian market."
According to Clive, "upper body equipment still has a maximum FHOF of 2.2 metres and Supervised Early Childhood Services (SECS) will have a maximum FHOF of 1.8 metres." (currently SECS 1.5m).
"In general, the fall zones derived from the new AS4685:2014 are either smaller or the same as those derived from AS4685:2004," he added.
With the introduction of this new standard KOMPAN is delighted to also announce their exclusive partnership with Sik Holz. According to Sue, "Sik Holz unique range of products are very much in vogue with landscape architects and have been for some months now. The market is definitely rediscovering the connection with timber products particularly the distinctive 'sculptures' Sik Holz are celebrated for."
KOMPAN will service Australia-wide this unique and versatile range made primarily from Robinia wood. The company is a Berlin-based manufacturer who has been in operation for 25 years.
This expansion will see the following KOMPAN ranges increased as shown below:
Elements
158 (2013); 183 (2014)
Freegame
60 (2013); 120 (2014)
Imaginator
90 (2013); 166 (2014)
Galaxy
57 (2013); 112 (2014)
Komplay
28 (2013); 62 (2014)
Moments
395 (2013); 522 (2014)
Nature
73 (2013); 142 (2014)
Robinia
0 (2013); 84 (2014)
Shade
0 (2013); 10 (2014)
Rubber
0 (2013); 6 (2014)
Triaction
5 (2013); 14 (2014)
For more information please contact KOMPAN on:
Ph: 07 3635 6200
Email: sales@kompan.com.au
Web: www.kompan.com.au
To view the Sik Holz range: www.sik-holz.com
Images (top to bottom): Sik Holz; Hans Christian Andersen; Galaxy; Swan Springtoy; and Robinia.
SEARCH
SUBSCRIBE TO ENEWS
MORE NEWS
BRINGING TOGETHER THE BEST IN LOCAL DESIGN
PROLUDIC JOINS AILA
WHEELCHAIR ACCESSIBLE STREET FURNITURE
MULTI-DIMENSIONAL DESIGN
WORLD-LEADING SOLAR STREET LIGHTING
HIGH-QUALITY PLANT STOCK