NEW CHILDREN'S HOSPITAL A REVOLUTION IN DESIGN
01 Jul 2015
Wherever you are and at whatever stage of life, hospitals are sites of intense emotion. Lady Cilento Children's Hospital in Brisbane aims to revolutionise the hospital experience.
Aiming to change the face of the hospital experience, the new Lady Cilento Children's Hospital in South Bank, Brisbane is an innovation in planning and design. For architect Conrad Gargett Lyons, combining site, urban location, internal spatial logic and innovative regimes of care, was a daunting task because the project brings together two hospitals – one from the north of the river, one from the south – each imbued with community and professional loyalty.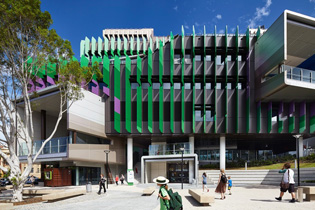 Lyons used local knowledge and interstate expertise, informed by the latest international research, to overcome many levels of suspicion and nostalgia as it created the conditions that enabled the merger of these two sites. Overcoming a number of situational challenges to create the space needed to encompass the scope of this project, the new children's hospital now has a prominent location in the city and forms a visible urban counterpoint to the central business district.
The hospital sits comfortably on its site, above a street-width colonnade on its southern entrance side. On its opposite northern face, it has another colonnade buffering its emergency department access from a busy main road. The plaza sweeps easily down a full level from the southern face along the South Bank-facing elevation, wrapping around a children's play area. Above floats a broad, double-volume entry portal flanked by verandah-like spaces that wrap around a cafe and, on the northern face, provides a locale for Aboriginal smoking ceremonies. The hospital, having a regional catchment, is surmounted by a helipad and must also cater for various cultural ceremonies for quieting departed spirits.
Sixty percent of the site is landscaped. Much of the upper-level landscape is built up out of small containers that can be removed and replaced in a maintenance cycle. Real grass carpets some terraces. Some gardens are adjacent to the largely open-plan staff areas, which is in itself an innovation in hospital planning, achieved by exposing key staff to good corporate exemplars. Other terraces serve as outdoor rehabilitation areas for patients.
Finding your way through the hospital is assisted by colour-coding. A 'Queensland' colour wheel was devised and this ensures a graduated tonality that makes the colouring seem less a strident direction system and more what you might experience in the transition from one landscape zone to another. The wheel concept also served to harness the individual colour preferences of briefing staff to what all could see as a harmonious whole.
The briefing process involved deep discussions with departmental staff and the use of diagrams to help surface new ideas about modes of care. User group sessions drove other innovations. Such small gestures toward modes of care make a big difference and this hospital is replete with signs of caring. The main atrium contains toy-like birds by Emily Floyd and there are invented Rorschach test-like butterfly emblems by artist Helga Groves on the timber-veneered surfaces of the arcades. A brightly coloured diamond faceted mobile by James Angus sparkles in the air above one of the portals.
The geographical rootedness of this acropolis – with its upper-level staff and training floor visually linked to surrounding research facilities, nearby schools and ever-reachable views of the city – anchors this generation to the present moment in the flourishing of this city. This new hospital is a powerful work of city making. It deserves to be embraced by the citizens that it serves.
This innovative design recently won four awards at the 2015 QLD Architectural Awards held this month, including the FDG Stanley Award in Public Architecture.
SEARCH
SUBSCRIBE TO ENEWS
MORE NEWS
GYRO MULTIDIRECTIONAL SWING FROM ADVENTURE+
HEALTH INFRASTRUCTURE DELIVERY CHANGES
A CLEANER MESH SOLUTION FROM RICKY RICHARDS
2020 AUSTRALIAN INSTITUTE OF HORTICULTURE AWARDS
QUALITY SURFACES FROM MPS PAVING
VISITOR HUB AND LIBRARY FOR PRAHRAN SQUARE