MELBOURNE'S $600M REVAMP
15 Jul 2015
An ambitious $600 million project in Melbourne's largest urban renewal area has recently been put forth for approval.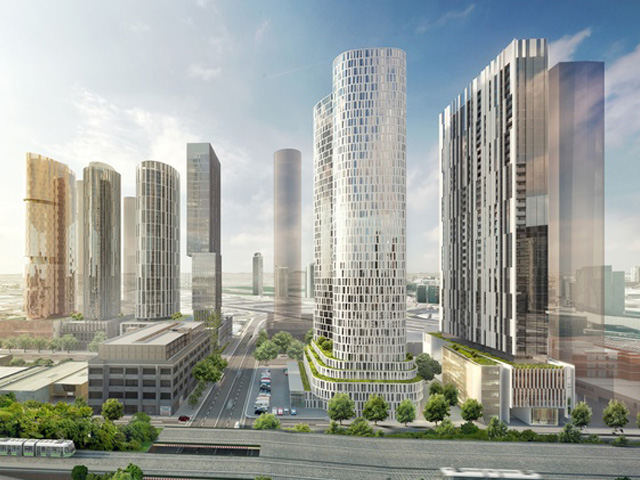 Six independent landowners with adjoining land have come together, engaging Hayball architects to develop a project that will house 1578 apartments across six 40 storey towers in Melbourne's Fisherman's Bend precinct.
The proposal has been hailed as a rare opportunity to build a collection of skyscrapers that respect each other and use the adjoining lots to create better community facilities. The curved shape of three of the four western towers would mean that the apartments would not be directly facing neighbouring dwellings.
The project will be built in the Montague precinct between Normanby Road, Munro Street and Woodgate Street, south of the West Gate Freeway, in what could be the new suburb's biggest development to date. A portion of the housing will also be contributed to the Port Phillip Housing Trust, an affordable housing initiative.
In addition, a modest 'pocket' park of about 200 square metres, two public squares, two major laneways, a vertical playground and green roofs have been planned for the combined site of about 1.3 hectares. A six-storey office building is also part of the proposal, while spaces for other offices, eateries and retail stores will be built along the ground and lower levels of the towers.
Hayball Managing Director Tom Jordan said that consideration of the human experience was a key part of the practice's approach, with positive street-level engagement encouraged in the design. He states, "The net community benefit from a precinct approach is the creation of public spaces that feel good to be in and that people want to return to."
Fishermans Bend will be developed over the next 30 years in five precincts: Lorimer, Montague, Sandridge, Wirraway and now the new employment precinct. Planning Minister Richard Wynne introduced 40 storey height limits for the Montague and Lorimer precincts when he announced that the urban renewal area would be doubling in size.
SEARCH
SUBSCRIBE TO ENEWS
MORE NEWS
AIM TO INSPIRE WITH AUSTEK PLAY
CLIMB HIGH WITH OMNITECH TOWERS
DRIVEABLE SURFACE EROSION PROTECTION
ONE-OF-A-KIND OUTDOOR GYM
CIVIL CONSTRUCTION PRODUCTS FOR EVERY SPACE
A REGIONAL SUCCESS