LIONS PARK A ROARING SUCCESS
07 Sep 2016
WillPlay's latest playground upgrade for the City of Gold Coast has breathed new life into Lions Park at Helensvale by doubling the footprint and providing something for everyone to enjoy.
Willplay was contracted by the City of Gold Coast to undertake an upgrade of Lions Park in Helensvale, Queensland as part of a $160,000 refurbishment project. While the new plan doubled the footprint of the playground, the new space also needed to incorporate something for all ages and provide a real challenge for those looking beyond conventional play systems.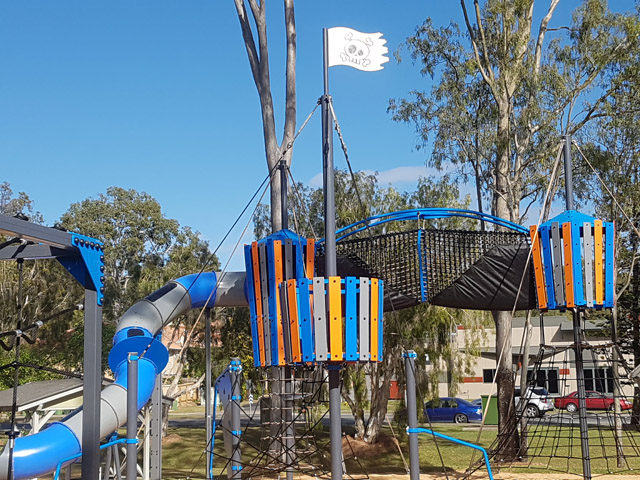 The finished playground now includes both standard and custom items from WillPlay's Australian-made range of play equipment. The units combine various climbing elements to provide a changing play experience appropriate to a user's age and ability. Featuring extensive use of Australian recycled plastics and stainless steel and aluminium structural components, these play units offer terrific play value and will stand the test of time.
The main tower structure within the new playground is a custom design from WillPlay's Giant TreeHouse range. It features a variety of climbing elements, as well as everybody's favourite – a giant tube slide. With elements from the new Street Climber range, Lions Park will push kids to think about the way they play, and allow every child to choose their own path at their own pace.
The Boxie Climb, being one of the best value pieces of play equipment on the Australian market, was an inspired choice for the Lions Park project. Designed and manufactured in Australia, Boxie Climb offers exceptional play value in a single piece and can be incorporated into a complete playground design or used as a stand-alone item. Willplay also incorporated CSBR wear pads and Takura Engineered softfall to ensure a safe play zone.
The complete design and construct service offered by Willplay guaranteed the final result was something special for the local residents. This upgraded play area has been a real hit with the local community and shows how a well-planned project delivers benefits to the whole area.
For more information on this project and to view WillPlay's extensive range of Australian made play and fitness equipment visit www.willplay.com.au
CITY OF GOLD COAST MEDIA RELEASE
Such was the success of Lions Park it was used as the site for Mayor Tom Tate to launch a city-wide survey. Calling on all Gold Coasters to "shape their future", Mayor Tate states, "this year, we've budgeted $77.3 million for our parks. This will go towards maintaining and protecting our open public spaces and creating new parks for everyone to enjoy.
"But the needs of park users are changing, so it is timely to launch a city-wide survey to ensure what people want in their parks is planned and budgeted for.''
During the survey launch, Divisional Councillor William Owen-Jones, in response to the park refurbishment, stated, "I'm delighted with the refurbishment and know local families will get so much enjoyment from playing here and creating memories every day."
Gold Coast residents and visitors are encouraged to complete the online survey at www.gchaveyoursay.com.au/parks The survey closes on 9 September.
CHECK OUT WILLPLAY'S NEW LOOK WEBSITE HERE
SEARCH
SUBSCRIBE TO ENEWS
MORE NEWS
BOAT-THEMED PLAYGROUND BY THE RIVER
RICHTER PLAYSPACE ARRIVES IN TASMANIA
PLAY AND FITNESS EQUIPMENT YOU CAN TRUST
NATIVE PLAY
WETPOUR RUBBER FLOORING AT WINTON WETLANDS
TAKE ON THE HIGH SEAS OF FUN WITH PROLUDIC