LET'S PLAY
28 May 2012
For quality, safe and fun play equipment that exceeds Australian standards, you can't go past Timberplay for your next commercial project.
At Timberplay we specialise in making quality, safe and fun play equipment that meets and exceeds Australian standards. So when you partner with Timberplay for commercial play areas, you are assured of a well-constructed, durable and safe product for children.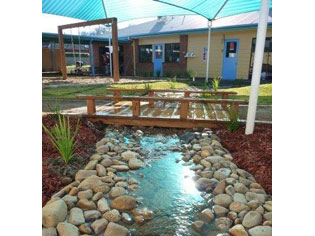 Kids should enjoy being kids and those responsible for their play equipment need to feel confident the equipment they supply is 100% safe. That's why at Timberplay all natural play structures are a great addition to any outdoor space.
With our play spaces you are assured of maximum connection with both the natural landscape and sociocultural context, flexibility in catering for diverse play needs plus safe opportunities for children to experience risk and challenge.
As planning and development professionals we play a key role in ensuring that young people have access to nature in their everyday lives by providing children's natural play preferences and the most effective designs to support their development which are fully compliant with Australian Standards.
Cypress pine and Western Red cedar timber are used in all our models as they are chemical free.
Timberplay has a wide variety of standard designs to choose from, or alternatively, we can work with you to discuss variations such as themed projects or designs of your own, meeting your requirements and budget. That way, you get exactly what you want. We can also organise the complete package when it comes to soft fall material such as bark or sand, or even shade sails to keep the kids protected from the sun.
With the future of children in mind we are committed to sustainable environmental practices in all materials used.
For more information contact Timberplay:
2/22 Commercial Drive, Southport QLD 4215
Ph: 07 5503 0692
Email: info@timberplay.com.au
Visit: www.timberplay.com.au
SEARCH
SUBSCRIBE TO ENEWS
MORE NEWS
3 INDICATORS OF AN EFFECTIVE OUTDOOR PLAY SPACE
TRANSFORM OUTDOOR SPACES WITH GOSFORD QUARRIES SANDSTONE
ART MEETS PLAY WITH BLADE RECREATION
CUSTOMISED OR BESPOKE PLAYGROUND: WHICH IS BEST?
BEHIND THE SCENES AT THE HILLS BARK BLOWER
VISION FOR VICTORIA PARK