KOMPAN'S EOFYS
25 May 2016
Your end of financial year is more fun with KOMPAN! The world's number 1 brand of playground equipment is on sale until June 30.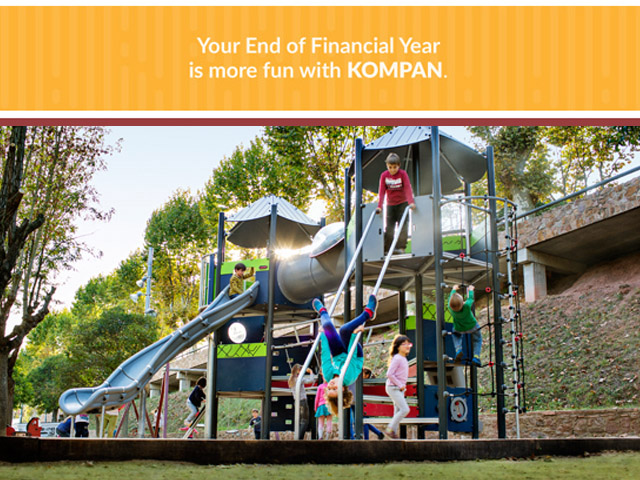 Save up to 50% off the normal price of KOMPAN playground equipment until 30 June 2016.
With decades of experience in developing and supplying play and fitness equipment to commercial and government organisations around the world, KOMPAN are the experts in every aspect from planning to installation.
Now is the time to take advantage of their expertise! Until June 30 KOMPAN is offering up to 50% off the normal price of selected pieces. It's as easy as child's play – simply choose the equipment you would like, or combine pieces for even greater savings, and your exclusive KOMPAN agent will assist you with design, layout and full turn-key playground and fitness options.
As the world's number one playground equipment supplier, KOMPAN develops, produces and markets an extensive range of outdoor and indoor play equipment for children of all ages. Their compelling designs offer high play value and uncompromising safety together with unique innovation and long-lasting quality.
EVEN BIGGER DISCOUNTS ARE AVAILABLE ON SELECTED PACKAGES
Don't play around - take advantage of this exceptional end of financial year offer today.
CLICK HERE to view KOMPAN'S generous offers
SEARCH
SUBSCRIBE TO ENEWS
MORE NEWS
OMNIWARRIOR IS HERE!
BALLS OF FUN AT NEW PLAYGROUND
CREATING A SPACE FOR EVERYONE TO ENJOY
SOFTFALL TESTING PARTNERS WITH PLAYGROUND123
BRINGING TOGETHER THE BEST IN LOCAL DESIGN
PROLUDIC JOINS AILA