KINGLAKE REBUILDS WITH CHRISTIE
18 Feb 2015
After the disastrous fires of 2009, Parks Victoria set about rebuilding the lost infrastructure, including the Christie Parksafe barbecues.
It wasn't a barbecue that caused the bushfires that devastated Kinglake National Park in 2009. In fact, it was quite the reverse: the fire devastated the barbecues.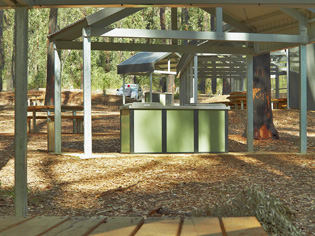 Parks Victoria had chosen to install Christie Parksafe barbecues at Kinglake to be sure they could never cause a fire. And now they are replacing them for the same reason.
In 2007, much of California's forests along with vast numbers of birds and animals were destroyed in devastating wild fires. Like so many other disasters around the world, that fire was started by cooking on an open camp fire.
In Australia, one unique predator was brought to the edge of extinction by campers building camp fires. As they gathered loose sticks and leaves from its habitat they broke a fragile food chain. Without the leaf litter there were no insects for that small predator to feed on.
The continuous dumping of camp fire coals and open BBQs is a world-wide problem that has left many pristine natural environments permanently scarred and damaged.
These environmental concerns and other camp fire issues create massive problems for park managers. Not only must they protect the flora and fauna, they must also find funds and manpower to constantly clean up these cooking sites. That's why Christies developed the 'Parksafe' barbecue.
Every Christie Parksafe BBQ is fully enclosed and self-contained with no exposed flames or sparks. The hotplate cooks food perfectly without the need to gather fuel to burn. There's no need to dump coals or hot embers after cooking and cleaning is simple so our precious parks and nature reserves, like Kinglake National Park, remain protected for future generations to enjoy.
For more information on the Christie range of 'parksafe' products call 1300 135 227.
SEARCH
SUBSCRIBE TO ENEWS
MORE NEWS
WORLD-LEADING SOLAR STREET LIGHTING
BRINGING TOGETHER THE BEST IN LOCAL DESIGN
WHEELCHAIR ACCESSIBLE STREET FURNITURE
MULTI-DIMENSIONAL DESIGN
PROLUDIC JOINS AILA
HIGH-QUALITY PLANT STOCK