IT'S ALL IN IXO
27 May 2015
Proludic's popular IXO range provides older children with playful challenges that inspire creative movement. Discover IXO for your next playground project!
Proludic's IXO is a range of play and sport for older children. Parkour, active play, challenge, imagination, strength, socialisation… it's all in IXO!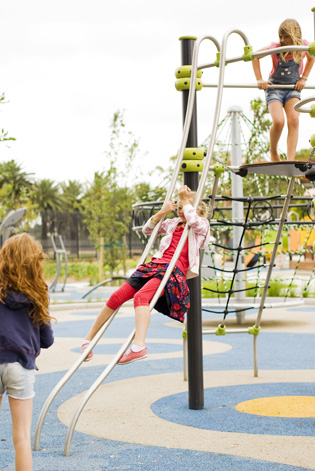 Since 1998 the IXO range has been a continuous success. Its clean structural lines allow IXO to easily integrate into both natural and urban environments. The design takes inspiration from nature, with stainless steel "branches" emerging from the "trees". The posts are available in either laminated timber or painted galvanised steel. IXO combines seamlessly into playgrounds that also include Proludic play equipment for younger children. IXO structures are robust and the ideal choice in challenging environments.
The IXO range is for older children aged from 6 to 14 years. The design encourages imagination and creativity in movement: girls and boys want to test their physical abilities in new ways in a playful and social setting. They like to challenge each other, show off, and make their own rules. The IXO towers encourage older children to climb to the peaks of their capability, brave the Speed or Turbo Slide and climb across walls and nets. IXO platforms enable children to perch and observe the world with a grandstand view, or to rest and socialise with their friends.
IXO units are large enough for many children to play together. Different IXO activities offer different levels of difficulty and help children develop confidence as they build up their skills in a gradual way. IXO can be used in both public playground and school playground environments. They can even be used for physical education lessons! Click here to watch a video of IXO in a school setting.
The "Parkour"* trend was recognised long ago by Proludic and is reflected in the IXO range. Children and teenagers can use Ixo combinations as a Parkour* or Free Running** training apparatus in safe conditions and at their own pace. Climbing, jumping, hanging, sliding, balancing … It's all in IXO! With IXO you will be sure to get everyone moving!
Click here to watch an entertaining video on how IXO equipment can be used.
*Parkour: The activity or sport of moving rapidly through an area, typically in an urban environment, negotiating obstacles by running, jumping, and climbing. (oxforddictionaries.com)
**Free running: A version of parkour that typically places greater emphasis on acrobatic techniques and self-expression. (oxforddictionaries.com)
SEARCH
SUBSCRIBE TO ENEWS
MORE NEWS
CREATING INCLUSIVE PLAYSPACES WITH SIDE-BY-SLIDE™
INCLUSIVE PLAY AT TRESILLIAN PARK
THRIVING IN THE GOLDEN YEARS WITH OUTDOOR TRAINING
ALL THE BELLS, LESS OF THE WHISTLES
COASTAL PLAY WORTH THE CLIMB
DOUBLE THE FUN WITH PROSLIDE FLYINGSAUCER®