ITALY'S PARK OF ANGELS
28 May 2014
A sculptural photovoltaic canopy in the Tuscan countryside serves to filter, transform and harness natural light and energy.
New York firm Asymptote Architecture has been commissioned to design the 'Parco Degli Angeli' (Park of Angels) on the outskirts of the Tuscan hill town of Peccioli, in Italy.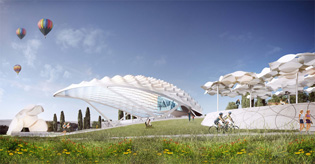 Peccioli is a renaissance hill town in the Province of Pisa, located about 50 km southwest of Florence. The 'Parco Degli Angeli' master plan and architectural works include a collection of new buildings and parkland, a large covered 800-seat amphitheatre and various interactive sculptural features.
The building components include a new Museum of Etruscan Antiquities, a Centre for Tuscan Food and Wine Culture (Centro di Cultura Enogastronomica) and a new community-based Music Centre and Music Instrument Museum.
Each building component, landscape intervention and art work will utilise a kinetic canopy made from a translucent gossamer fabric which serves to filter, transform and harness natural light and the energy it produces. The covering is designed as a kinetic and intricately transformable shell structure, pouted with photovoltaic and therefore able to respond to subtle changes in daylight.
The architecture of the canopy being developed as apertures set within directional funnels is able to redirect breezes and wind and airflows appropriately to the space beneath. This intelligent and reactive skin is also able to open and close according to need, therefore repelling rainfall and shutting down during inclement weather.
The 'Parco Degli Angeli' is designed to be both an elegant 21st century addition to Peccioli and a dramatic insertion into the Tuscan landscape, keeping in dialogue with a deep and resonant cultural history. Asymptote Architecture envisions the project as "a unique opportunity to intervene within a pristine landscape and to make evident the possibility of juxtaposing a provocative and inspired future against a remarkable and historical significant context".
Along with these various building components there are a number of interesting landscape features and specific places designed for repose, meandering and contemplation, all taking full advantage of the spectacular setting in which the project is situated.
SEARCH
SUBSCRIBE TO ENEWS
MORE NEWS
3 INDICATORS OF AN EFFECTIVE OUTDOOR PLAY SPACE
ART MEETS PLAY WITH BLADE RECREATION
CUSTOMISED OR BESPOKE PLAYGROUND: WHICH IS BEST?
VISION FOR VICTORIA PARK
BEHIND THE SCENES AT THE HILLS BARK BLOWER
TRANSFORM OUTDOOR SPACES WITH GOSFORD QUARRIES SANDSTONE