INNOVATIVE LANDSCAPING
25 Jun 2012
Design Landscapes specialises in landscape infrastructure projects for clients who demand innovative solutions and the latest techniques.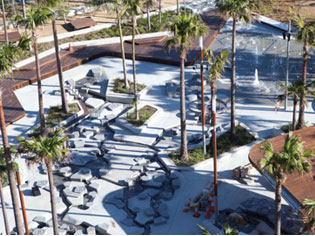 The Design Landscape group's origins started in Australia in 1988 with the establishment of Design Landscapes Pty Ltd. Today, the company throughout its various international offices specialises in public domain and landscape infrastructure projects for clients who demand innovative solutions combined with the latest construction techniques, all with an overriding emphasis on quality.
The company's "Leading by Example" philosophy in pursuing excellence challenges us to exceed our client's expectations by ensuring that we effectively manage critical issues, alongside a true value engineering approach.
The company's many awards for "Excellence in Construction" have provided us with an international audience eager to experience the attention to detail that is the cornerstone of the Design Landscapes business.
The core services at Design Landscapes are the construction of public domain and landscape infrastructure projects. Since its establishment the company has demonstrated its ability to successfully complete both broad acre and highly detailed works encompassing all facets of civil and landscape construction. Our leadership ability often sees us take on the head contractor's role to project manage a wide range of subcontractors and specialist trade works to fulfil shared project objectives.
The company also offers a design and construct service for clients with projects that can benefit from this particular delivery model. Our sister company, Themed International Co. Ltd, can provide a team of specialist trades people capable of providing themed finishes for concrete, artificial rockwork, carved plaster work, painting etc.
Our recent projects include:
• Darling Quarter - Darling Harbour, NSW
• Wayne Gardner Reserve - Oran Park, NSW
• Bunya Estate - Doonside, NSW
• Advanx - Rushcutters Bay, NSW
• Kamay Botany Bay National Park - Botany Bay, NSW
• Harrison Secondary School - Harrison, ACT
• Hume Asphalt Plant - Hume, ACT
• Toy Story – Hong Kong Disneyland, Hong Kong
• Grizzly Gulch – Hong Kong Disneyland, Hong Kong
• Universal Studios - Sentosa Island, Singapore
For more information contact Michael Platt on 02 9958 9400 or email: sales@designls.com
Visit: www.designls.com
SEARCH
SUBSCRIBE TO ENEWS
MORE NEWS
BREAKING FREE
PERTH WELCOMES NEW $695M UNIVERSITY CAMPUS
LANDSCAPES GOOD ENOUGH TO EAT
STYLE & COMFORT IN PLAY
DIABOLO BABY® A GOOD DESIGN AWARD WINNER
APPLYING ACUPUNCTURE TO A PUBLIC SPACE