INFINITISTONE LINKED TO AWARD-WINNING BOWLING CLUB
09 Apr 2014
InfinitiStone® manufactured Sandstone 605 stone veneer was the product of choice for the recently refurbished bowling club in Ocean Grove.
The refurbishment project had some restrictions in that a portion of the external walls were of lightweight construction therefore heavy stone veneers could not be used.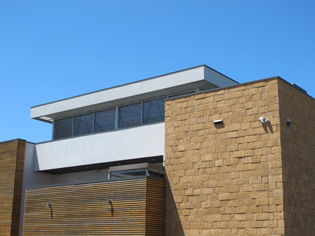 InfinitiStone® was able to meet the designer's restricted brief by using the manufactured stone veneer series – lightweight products that are up to 1/3 less weight compared to natural sandstone.
Manufactured Mt Gambier Sandstone 605 was the perfect choice not only because it was lightweight but also, having a naturally flat textural design profile, was complementary to its adjacent timber and alucobond cladding finishes.
Other advantages were the stone veneer's durability and low maintenance nature, ensuring a hassle-free outcome.
For information on other exclusive manufactured lightweight and natural stone veneers, contact InfinitiStone on 1300 238 288 or visit the website: www.infinitistone.com.au
SEARCH
SUBSCRIBE TO ENEWS
MORE NEWS
AUSTRALIAN SANDSTONE | THE TIMELESS CHOICE
TRANSFORM YOUR SPACE WITH KLS SANDSTONE
FROM MASTERPLAN TO MASTERPIECE
TRANSFORM OUTDOOR SPACES WITH GOSFORD QUARRIES SANDSTONE
HOW TO INCORPORATE TILES, PAVING AND STEPS IN YOUR NEXT SANDSTONE PROJECT
CLAD IN STYLE