HOLDING BACK THE TIDE
09 Nov 2017
In response to the threat of rising sea levels, the US city of Boston is implementing a scheme to develop public space infrastructure that aids in the prevention of flooding in at-risk waterfront neighbourhoods.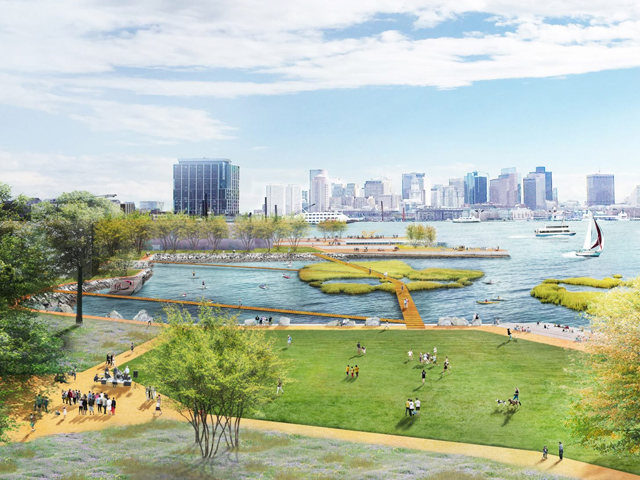 The latest US city to respond to the threat of climate change, Boston released a plan last week that outlines strategies to protect the neighbourhoods of East Boston and Charlestown from the increasing likelihood of flooding. These two particular neighbourhoods are at high risk of coastal flooding due to low-lying pathways that lead directly down to the harbour.
Outlining an urban development plan to block floodways into neighbourhoods, the Coastal Resilience Solutions For East Boston and Charlestown report's flood-defence strategy not only works on existing neighbourhoods but will also be implemented in future city developments.
East Boston and Charlestown were already outlined as the city's most vulnerable coastal neighbourhoods in the Climate Ready Boston initiative released in 2016. But additional areas of the city are expected to become more vulnerable to rising sea levels over the next 10+ years. At present, sea levels are predicted to increase nine inches by 2030, 21 inches by 2050 and 36 inches by 2070. The Coastal Resilience Solutions For East Boston and Charlestown report also outlines a host of future strategies to take this potential threat to the city into account.
Keen to activate the plan as quickly as possible, in the protection of Charleston, the city will raise a section of the Main Street by two feet. In addition, redevelopment along the waterfront will include elevated parks and pathways that will act as a barricade along the water's edge, providing additional protection to around 330 residents in the area.
Other plans to protect Charlestown include overhauling Ryan Playground, which sits along the waterfront, with elevated pathways, plazas and beaches.
"Climate change is here," said Boston city mayor Martin J Walsh. "It's happening now. This year, we saw its effect in Texas, Florida, Puerto Rico, and across our country and world."
"In Boston, we are seeing more frequent flooding on our waterfront, especially in East Boston and Charlestown," he added. "It's more important than ever that we work together to make sure our city is ready for the changes ahead."
Plans for the protection of East Boston include the construction of a deployable flood wall. To combat the flooding threat, this wall could block the entrance to Greenway park and provide protection for 4300 residents and over 70 businesses in the area.
In addition, elevating the low-level Greenway entrance and Piers Park II will create a raised, public greenspace that will add another layer of flooding protection.
These Boston initiatives come in the wake of increasing natural weather events in the US that have instigated calls for changes in urban planning. A number of US cities are proactively searching for solutions to protect coastal areas from rising sea levels and other natural disasters. San Francisco and the Bay Area recently launched a design competition looking for planning schemes to protect their region, and New York City and Miami are also taking steps to address flooding in their cities.
SEARCH
SUBSCRIBE TO ENEWS
MORE NEWS
WATER MANAGEMENT TRENDS
AN EDUCATION IN STORMWATER HARVESTING
STORMWATER DRAIN KEEPS GREEN SQUARE DRY
ACO STORMBRIXX®
STORMWATER PROTECTION WITH DSTORM
INDUSTRY-LEADING STORMWATER MANAGEMENT