HEARTKIDS SPRING GARDEN TOUR
07 Nov 2011
The second annual HeartKids Spring Garden Tour was held on October 28 and featured 125 guests and some of Sydney's best gardens.
The second annual HeartKids Spring Garden Tour was held in Sydney on October 28. 125 guests were pampered and spoilt for choice as they made their way through some of Sydney's best gardens.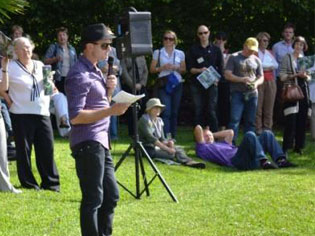 The guests raised $25,000 for HeartKids, a charity which raises funds into the causes of heart disease and offers support to families of children with heart disease.
The garden tour was organised by Alpine Nurseries, one of Australia's largest wholesale nurseries.
According to Dave Rose, HeartKids NSW State Manager, "HeartKids is the only Australian charity 100 per cent dedicated to children with heart disease. HeartKids is absolutely delighted to be the chosen charity of choice for the Spring Garden Tour. We will direct the funds raised to continue our work in support, awareness, research and advocacy for the children and families affected by a disease that is the greatest killer of young children in our country."
The connection between HeartKids and Alpine Nurseries is a special one. Managing Director of Alpine Nurseries, Peter Knox, has a grandson who is a HeartKid. Since Charlie's successful operation six years ago when he was born, Alpine Nurseries has been an active supporter of HeartKids.
The Spring Garden Tour began with a garden at Mosman, designed by William Dangar of the Dangar Group, and constructed by Michael Bates of Bates Landscape. Guests were blown away by this opulent residence, and the landscape finishes and quality materials.
The next stop was Duffy's Forest and country style garden overlooking paddocks and stables, presented by Michael Cooke of Michael Cooke Garden Design. The design incorporated several garden rooms created by using hedging and native plants combined with grasses, succulents and grey foliaged plants.
Guests then arrived at another garden at Duffy's Forest designed by Joanne Green of Joanne Green Landscape Design. The immaculately designed sub-tropical garden complemented the home and existing horse stables and horse paddocks.
Following a lavish lunch, the tour went to Pittwater, where two amazing yet very different gardens were showcased.
The first was a brand new multi-level garden designed by Paul Scrivener of Paul Scrivener Landscape Architects. Featuring several hidden courtyards, the garden was designed around a spectacular architecturally-designed house built on the water's edge in Pittwater.
The final garden in the tour was designed by Matt Cantwell of Secret Gardens of Sydney. Set over an acre in Avalon, guests arrived at the resort-style garden to the sound of music and sparkling champagne. The design maintained the different spaces and plant palettes in the front and back yards.
A lot of time and effort goes into organising the Spring Garden Tour. Planning for next year's HeartKids Spring Garden Tour will start shortly.
For more information on HeartKids, visit: www.heartkidsnsw.org.au
More information on Alpine Nurseries can be accessed here: http://www.outdoordesign.com.au/moredetail/Nurseries/00307/Alpine-Nurseries/4869
SEARCH
SUBSCRIBE TO ENEWS
MORE NEWS
COMPOSITE TIMBER DECKING
SHADE TREES FOR FARMS AND PADDOCKS
THE LANDSCAPE SHOW 2021
LOW-MAINTENANCE SEATING
WATERPROOFING MADE EASY
15-YEAR WARRANTY ON SHADE FABRIC