HALF THE WEIGHT DOUBLE THE STRENGTH
13 Apr 2016
With a range of products that won't break your back or the budget, Outdoor Emporium's Lightweight Quarterlite pots and planters make landscaping large areas easy and economical.
Outdoor Emporium has specialised in high grade garden pots and planters since its inception in 2004. Operating under the simple desire to supply quality products to clients at great value, Outdoor Emporium has built a vast collection of stocks suitable for any domestic or commercial outdoor space.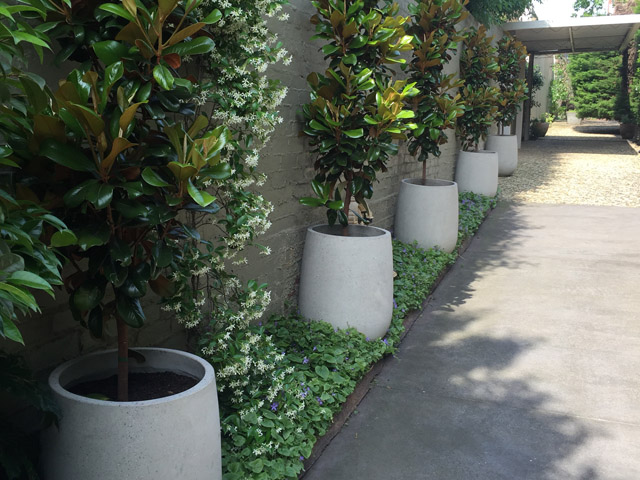 Outdoor Emporium has a varied range of pots, urns and planters. Among their best-selling items is their Lightweight pots and planters. Planters, urns and pots made of natural stone or clay have character and style, but they can be heavy, breakable and not always easily replaced long-term, often making them an expensive choice for large commercial projects.
Made from a durable composite material known as Quarterlite, Outdoor Emporium's Lightweight range is an attractive and hardy alternative. With a range of designer finishes, some of which can emulate the look of stone and clay, the Lightweight range is a more economical and versatile choice for a variety of domestic and commercial projects.
LIGHTWEIGHT TUBE PLANTER
Constructed from cement grey Quarterlite, these planters are ideal for keeping larger plants indoors or outdoors. They are completely waterproof so as not to leak and can be reliably used as a water feature. The Tube Planter is specifically designed to give you the choice of keeping plants in their original plastic pots or planting them directly into the planter, making them perfect for seasonal planting options.
QUARTERLITE BALCONY PLANTER
Representing a breakthrough in design and an intelligent solution to the common problem of balcony water runoff, these fantastic planters are lightweight enough to sit on a balcony year round and durable enough to last.
Balcony Planters come with waterproof, steadfast saucers that catch runoff before it can leak. And, as external aesthetics are important, the saucer design is discreet and locks together with its counterpart to ensure greater stability.
To view the full range of Outdoor Emporium's Lightweight range and more, visit www.outdooremporium.com.au To visit their Melbourne showroom (by appointment only) call 03 9354 1163.
SEARCH
SUBSCRIBE TO ENEWS
MORE NEWS
CHOOSING THE RIGHT TERRACOTTA
BLACK & WHITE POTS INSPIRE CREATIVITY
BLACK BEAUTY
SATU BUMI'S 'SOLUTIONS APPROACH' TO SOURCING GRC PLANTERS
ORGANIC PRODUCE FOR PUBLIC SPACES
CAFé GROWS TO LIFE