GREEN STORMWATER SOLUTIONS
22 Feb 2017
Porous paving by Stoneset offers a green stormwater solution with domestic and commercial applications by diverting rainwater to soft landscaping, without the need for costly stormwater restructuring.
Rainwater becomes surface runoff when the ground can't soak it up fast enough. Even if the earth is cracked and dry, a downpour will fall faster than can be absorbed; hence, flash floods and overflowing sewer systems. The problem we have today is that impervious surfaces, such as car parks, sidewalks, and city buildings take over so much ground that the water cycle is disrupted, causing flooding and erosion.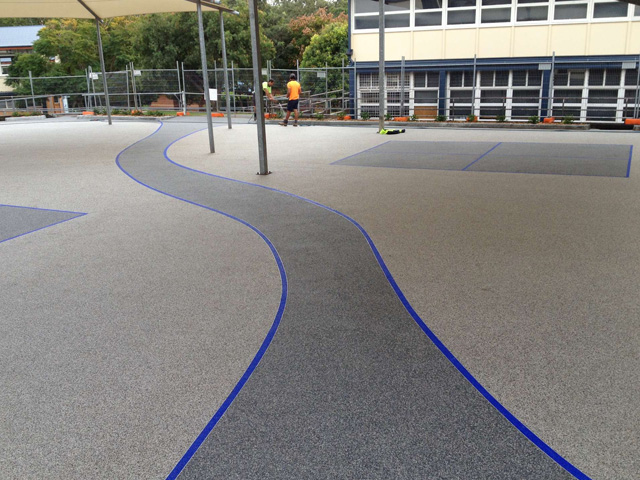 As a result, city councils are now forced to restrict impervious surfaces. In applying for building permits, the size of a lot, driveway, or pathway can be constrained by these new restrictions. A green solution is to divert the rainwater to soft landscaping with porous surfacing. Many cities have found that permeable paving and other green paving practices are less costly than restructuring stormwater drain systems.
An installation of a rain garden as small as 10sqm will reduce the amount of stormwater from approximately 83,000 litres per year to around 15,000 litres per year - an 81% reduction.* With soft landscaping, bio-retention tree pits, and a rain garden, you can meet your city council's requirements for a green water system.
StoneSet porous paving offers a hard-wearing, usable surface that is classified as 'soft landscaping' - the best of both worlds. Because of the strength of StoneSet's high-grade resin, their design process uses optimal amounts of resin to create a strong bond. This results in the particles being held firmly together at the points of contact only, leaving voids for water and air to permeate through.
Porous paving is also great for creating new or renovating existing driveways in the domestic arena. Perfectly suited for vehicular trafficked applications, StoneSet porous paving is a smooth, hardwearing, fully bound stone that provides a stunning finish to increase kerb appeal and manage stormwater runoff.
To consult with a soft landscaping expert for your next project contact StoneSet on 1300 392 155 or visit www.stoneset.com.au
* Ref: Developing a Strategic Approach to WSUD Implementation, Guidelines for Councils, Melbourne Water
SEARCH
SUBSCRIBE TO ENEWS
MORE NEWS
BENEFITS OF TRAVERTINE PAVERS
HIGRIP™ ANTI-SKID SURFACING
PAINTED PEDESTRIAN SPACE
QUALITY SURFACES FROM MPS PAVING
A SUSTAINABLE MASONRY CHOICE
LIMESTONE FOR EVERY SPACE