FUNCTIONAL ART TO ENJOY
28 May 2014
Surrey Sculpture Studio are designers and creators of unique decorative art, and building and garden pieces covering classic, traditional and contemporary styles.
Surrey Sculpture Studio specialises in conservation work and custom-made fountains and garden art made to clients' requirements or to purchase from our current stock.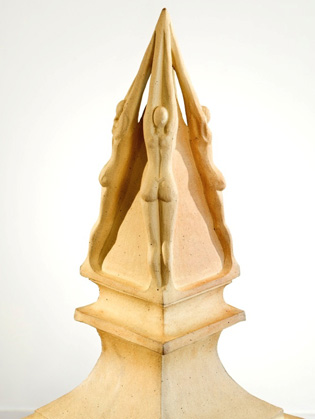 We hand make unique sculptures, bowls, fountains, urns, pots, bird baths, fireplace mantles and parapet terminals just to name a few and are sensitive to your memorial requirements.
Owner and Master Sculptor Graeme Foote has been a sculptor since the 1970's when he started an apprenticeship as a stonemason then transferred his career to Jewellery and Silversmith.
In 1984 Graeme and his wife Angela opened 'Gargoyles & Dragons' where he was a successful Architectural Sculptor working in terra cotta, stoneware and bronze helping replace Melbourne's heritage.
In 1988 he established Surrey Sculpture Studio which specialises in making unique pieces to clients' requirements.
In 2009 'Gargoyles & Dragons' was sold and Surrey Sculpture Studio moved to the Hawthorn Studio so the full focus was on making one-off unique pieces as well as conservation work.
Surrey Sculpture Studio has had many significant commissions over the years such as large fountains for the City of Stonnington; Flemington Racecourse; and 'Rippon Lea' for the National Trust; hand-made tiles for Werribee Mansion Kitchen and Scullery Floor; and Garden Urns for The Royal Exhibition Buildings just to name a few.
Over the years, commissioned pieces have been created for client's private collections in Australia, USA, UK, Japan, Canada and France.
We work in stoneware, terra cotta, porcelain and bronze and in a wide range of coloured glazes.
All pieces are custom made in our studio in the Melbourne suburb of Hawthorn East and can be sent anywhere in Australia and overseas.
Contact Surrey Sculpture Studio at Hawthorn Studio & Gallery for more information:
635 Burwood Road, Hawthorn East Vic 3123
Ph: 03 9882 5553
SEARCH
SUBSCRIBE TO ENEWS
MORE NEWS
CUSTOM GRC: THE AFFORDABLE CHOICE
A SCREEN WITH A VIEW
THE ADVANTAGES OF GRC PLANTERS
MRTRAMPOLINE DELIVERS ON STRENGTH AND DURABILITY
AUTHENTIC LE CHÊNE VERT ANDUZE POTS
LANDSCAPE ON THE ROCKS