FREE DIGITAL MARKETING EBOOKS
11 Jun 2014
Find out how design build professionals are getting better projects with higher profits through digital marketing.
If you ask a design professional for a list of their favourite things to do, you'll be surprised to hear that marketing doesn't even make the long list.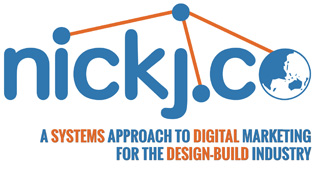 "I could go for weeks and not even think about it," remarks one design professional.
"Gives me the chance to get back to the computer and run off a few brochures I can hand out at the next Chamber of Commerce meeting," says another - both with little enthusiasm.
But the reality is, marketing is crucial if a firm is to survive intense competition and unpredictable market forces.
Firms that recognise how to maintain a robust level of marketing practices are the ones who not only survive, but secure a healthy client base from which to grow their business.
Because marketing is a requirement and a demand on their time, principals will need to create and develop an efficient marketing strategy - one that suits their practice and current position in the market place and makes good use of their time.
Do you want better projects with higher profits?
Nickj.co helps design build professionals get better projects, better clients and receive higher profits through a systems approach to digital marketing.
We have produced 2 eBooks written by Architect Deborah Hilton that we are giving away free of charge to subscribers.
Take action today and join the design build community that is reaping huge benefits from leveraging digital marketing.
Get the inside scoop on how to transform your business into the "Brave New Digital World" and develop systems to:
Get better projects
Increase profits
Cut advertising in half
SEARCH
SUBSCRIBE TO ENEWS
MORE NEWS
CREATING TIMBER ALTERNATIVES
SYDNEY'S NATURAL STONE SPECIALISTS
NATURE-BASED PLAY
LANEWAYS REVITALISATION PLAN
PARK WARRIOR COURSES ARE SPRINGING UP ACROSS AUSTRALIA!
CENTRAL PARK VISION FOR MIDTOWN MACPARK