FREE BUSINESS SEMINARS
20 Aug 2012
FREE Business Seminars for landscape professionals as part of the upcoming Landscape Australia Expo Sydney.
As part of the Landscape Australia Expo Sydney we will be holding free-to-attend business seminars for professionals in the landscaping industry.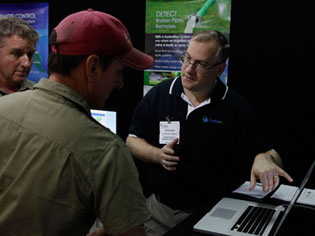 The Seminars will include topics on:
• Small Business Management
• Human Resources
• Marketing on a Budget
Don't miss out on getting expert advice, tips and information from highly experienced professionals.
The seminars are FREE to attend as part of the Landscape Australia Expo Sydney, which will be held September 13 and 14 at the Royal Hall of Industries, Moore Park. The Expo itself will be showcasing over 80 exhibitors representing every angle of design, construction and maintenance within the landscape industry.
You can see the full list of topics and speakers at the Landscape Australia Expo website:
http://www.landscapeexpo.com.au/sydney/syd_features/syd_seminar_schedule/
Free Registration to the Landscape Australia Expo is available for all industry professionals and can be completed online at www.landscapeexpo.com.au
Don't miss out on this opportunity to see the tools, resources and suppliers you need to build your business.
Contact:
Jenny Ramazan
Landscape Australia Expo
Phone: 02 9556 7993
Email: jramazan@etf.com.au
SEARCH
SUBSCRIBE TO ENEWS
MORE NEWS
URBAN GREENSPACES PROMOTING POSITIVE HEADSPACES
HAMA-RIKYU GARDENS WELCOMES WATER PAVILION
THE CLIMATE CENTRE DAZZLING DENMARK
MARVEL'S COVID SAFE CINEMA
NGV'S PICTURESQUE PICNIC PAVILIONS
JINING ART MUSEUM SHOWCASES ORGANIC SHAPES