FLORIADE REFLECTS ON THE CENTENARY OF ANZACS
28 Apr 2015
The biggest floral festival in the southern hemisphere will honour the 100th anniversary of the ANZAC landings at Gallipoli through its 2015 theme of Reflection.
ACT Chief Minister Andrew Barr and the Director of the Australian War Memorial, Dr Brendan Nelson have announced the theme for Floriade 2015 and unveiled this year's spectacular garden bed designs.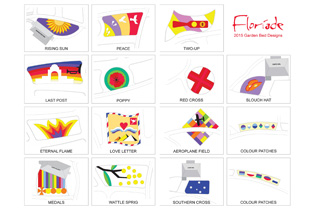 In recognition of the 100th anniversary of the Anzac landings at Gallipoli, Canberra's flagship event will pay tribute through the theme of Reflection.
Australia's biggest celebration of spring will return to Commonwealth Park for its 28th year from September 12 to October 11, with garden beds depicting iconic symbols like the poppy, the Southern Cross, two-up and the famous slouch hat.
Dr Nelson said Floriade was a truly national attraction, drawing hundreds of thousands of people each year, and welcomed the Centenary commemorative theme in 2015.
"This Floriade theme of Reflection and the beautiful way the gardens are presented here is magnificent and a fitting tribute to those whom we are remembering this year and over the next four years," Dr Nelson said.
Visitors to the biggest floral festival in the southern hemisphere will again be treated to something new and different each week of Floriade, with the 30 days of activity programmed into four themed weeks of Stories, Pride, Connections and Harmony.
Chief Minister Barr says that this year's theme for Floriade is about more than just looking back.
"Reflection is about celebrating our proud past and our vibrant, exciting present, while embracing a future full of brilliant possibilities," the Chief Minister said.
"Floriade remains Canberra's most popular event and the diversity offered across the month-long program will have something for everyone."
NightFest will also return from Wednesday September 23 to Sunday September 27 with comedy, music, night markets, spectacular new lighting and an array of exciting activities guaranteed to keep crowds entertained.
For more information call 1300 554 114 or visit www.floriadeaustralia.com
SEARCH
SUBSCRIBE TO ENEWS
MORE NEWS
GREENERY COVERED TIMBER BUILDINGS
MUSEUM TO FLOW LIKE A RIVER
NEW CULTURAL PRECINCT FOR COFFS HARBOUR
'CHRISTMAS TREES' FOR LONDON
PARK WARRIOR COURSES FROM A_SPACE
STREET FURNITURE AUSTRALIA BRINGS PEOPLE TOGETHER