FLORIADE BEGINS
09 Sep 2015
Floriade 2015 – Australia's biggest celebration of Spring - opens this weekend. Held at Commonwealth Park in Canberra, Floriade puts on a colourful program of garden displays, culinary demonstrations and entertaining performances every year.
Beginning in 1988, Floriade is a celebration of blossoms, showcasing stunning floral displays of exotic bulbs and annuals. Embraced by the community since its inception, this annual event combines more than one million blooms in a staggering display of landscaping prowess. Entry is free and hosts more than 400 000 local, interstate and international visitors each year.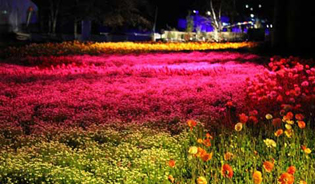 Returning to Commonwealth Park for its 28th incarnation, this year's Floriade offers a four week program of entertainment and grand floral spectaculars from mid-September to mid-October. The theme for this year's garden displays is Reflection; a tribute to the 100th anniversary of the Anzac landings at Gallipoli.
Each exciting week offers a new program that reflects a specific theme - Stories, Pride, Connections and Harmony. Every program offers visitors a host of gardening tips from experts in the field, inspiring musical performances, culinary demonstrations by world-renowned chefs, and kids entertainment. And the fun doesn't stop there!
As the sun goes down Floriade's Nightfest program takes over. This extravaganza of events will showcase roving performers, bustling night markets and a fantastic line-up of entertainment. The Inspiration Hub will host interactive activies and exhibitions, while the Comedy Cave will host an array of entertainment by top Aussie artists and The Kitchen Company Tasting Plate will transform into a food and wine market.
Not content with just shining during the day, Floriade's Nightfest offers an illuminated wonderland of vibrant colour through new and unique lighting designs that bathe the garden beds, pond waters and trees throughout the park.
Floriade opens from Saturday 12 September to Sunday 11 October. NightFest opens at 6.30pm and closes at 10.30pm from Wednesday September 23 until Sunday September 27.
For more information visit www.floriadeaustralia.com
SEARCH
SUBSCRIBE TO ENEWS
MORE NEWS
ENCHANTED BOTANIC GARDENS
AUSTRALIAN-MADE RESTROOMS
EXCITING THINGS TO COME
DANCE FLOOR TO DIVING PLATFORM WITH BLUECHIP TRAXION
INCLUSIVE PLAY AT TRESILLIAN PARK
HUSQVARNA CHAMPION OF CHAMPIONS: LANDSCAPER OF THE YEAR ANNOUNCED!