FESTIVAL SPRINGS INTO ACTION
07 Oct 2015
This week is d-day for the Horticultural and Gardening Festival, and Melbourne Showgrounds is a hive of feverish activity with amazing display gardens being built onsite by cutting edge landscape designers.
This Friday, 9 October, marks the beginning of the Melbourne Horticultural and Gardening Festival. The Melbourne Showground is currently undergoing a transformation as an amazing array of display gardens are being completed especially for the event by cutting edge landscape Designers.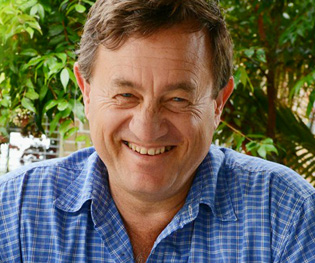 Ian Barker is this year's head judge of the display gardens. Ian is is someone who knows a thing or two about show success, having been a three-time winner at the prestigious Chelsea Flower Show.
As Melbourne's biggest spring gardening event, the Festival has attracted some of the biggest names from the media and across the broader gardening community.
Past and present ABC gardening personalities will include Peter Cundall, who will officially open the Festival, along with Peter Ryan, Angus Stewart and larger than live environmental educator Costa Georgiadis.
As frequent updates on the website will attest, the list of speakers and corporate support is growing by the day.
In addition, the media is buzzing with talk about the Festival. Angus Stewart has been broadcasting across a network of radio stations throughout regional Victoria, and a range of special interest stories have been running in magazines and local newspapers.
Meanwhile food personalities Emma Dean (2013 MasterChef Winner), and 'Paddock to Plate' creator Louise FitzRoy are being featured in television advertising.
While the Festival allows those in the industry to network with their peers, as Angus Stewart pointed out on radio, the celebrities themselves are relishing the opportunity to reconnect with audiences during this dynamic event.
The Horticultural and Gardening Festival runs from Friday 9 – Sunday 11 October at Melbourne Showgrounds. Tickets are available from Ticketek.
For details on last minute opportunities or simply to find out more about what's happening, visit www.gardeningfestival.com.au or contact the organisers on keran@gardeningfestival.com.au
We hope to see you this weekend at Melbourne's biggest spring festival!
While exhibition space for 2015 is now all but allocated, businesses looking to promote themselves at future Horticultural and Gardening Festivals will have the opportunity to become a part of this inaugural occasion. To find out more contact the festival's organisers at keran@gardeningfestival.com.au
Images 2-5: Costa; Angus Stewart; Ian Barker; Emma Dean.
SEARCH
SUBSCRIBE TO ENEWS
MORE NEWS
OPEN FOR BUSINESS
THINK BIG, THINK BRICK
READY FOR AWARDS SEASON?
STREETS OF YOUR TOWN
OUT OF THIS WORLD
EXPRESSIONS OF INTEREST