EXPANDED CAPABILITIES
20 May 2015
To showcase its expanded capabilities, Playscape Creations has released a suite of tools that puts its products at your fingertips, no matter which medium you prefer.
Over the years, Playscape Creations has strived to expand its capabilities in the recreational play sector, and through the offering of more holistic designs and teaming with industry leading manufacturers, we have strengthened our knowledge and experience in the industry's specialised areas.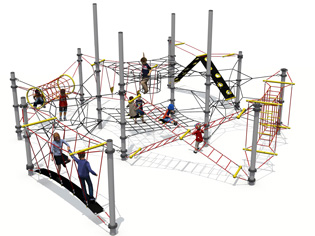 Designs that stimulate the senses and provide varied prospects for inclusive play and play for all abilities create recreational spaces that are well utilised by the community and become sustainable investments for our customers.
This diversity of products and services that we are able to offer sets us apart in the market as we develop lasting relationships and put smiles on children's faces by building better playgrounds.
A new Suite of ResourcesTo help guide our clients through this wide-ranging selection of high quality play systems, independents, fitness equipment and more, we have recently released a suite of tools that put our products at your fingertips, no matter which medium you prefer.
Our Early Years and Let's Play Catalogues showcase selected models from our entire library – a hard copy clear visual of the options available across the Early Years and 2-12+ age groups. Please Contact Us to receive your copies.
We have also launched a revamped website with Innovation pages full of play and child development articles, Project Profiles, and of course a showcase of our vast range of product.
And to make our resource even more user friendly, Design CAD and spec files are also available through our newly refreshed Design Centre. If you do not already have a log in, it's an easy process once you follow the link.
We welcome you to this new suite of tools and to the outstanding Playscape Creations range.
Ph: 1300 669 074
Email: info@playscapecreations.com.au
SEARCH
SUBSCRIBE TO ENEWS
MORE NEWS
BREAKING FREE
PROLUDIC CELEBRATES 10 YEARS
WEST COFFS RESERVE A TASTY ADDITION
PLAY WITH AUSTRALIAN IRONBARK
IMMERSIVE EXPERIENCE AT THE SECRET GARDEN PLAZA
THE NETHERLANDS' RING OF SWINGS