ENVIRE™ FRIENDLY BOARDWALK
21 May 2012
Integrated Recycling's latest eco-friendly boardwalk project brings all walks of life to the Kings Billabong Park near Mildura.
A new eco-friendly boardwalk has just been installed in the Kings Billabong Park near Mildura. Bordering the Murray River, the Kings Billabong Park is a 2,154ha high conservation value Park that is home to wetlands of international significance. The Boardwalk is needed to allow access during times of high water flow.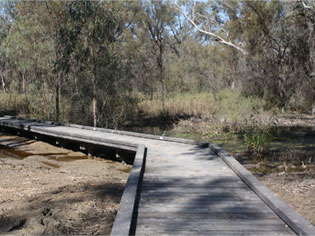 The project team headed by Parks Victoria and the Friends of Kings Billabong, worked with Integrated Recycling to design and develop the boardwalk. Built using the Envire™ range of composite recycled plastic products, the boardwalk was manufactured in Mildura by Integrated Recycling (IR).
Stephen Webster, GM of Integrated Recycling said, "we are assembling the boardwalk in a modular form at our factory to enable easier installation at a remote location … a concept we have used for other projects around Australia".
Mr Bruce Summerfield, Ranger for Parks Victoria and Ms Tressna Martin, President of the Friends of Kings Billabong said "we are delighted with the boardwalk that will enable the Park to be accessed and enjoyed by locals and visitors for years to come".
IR recycles combines waste plastic and organic fibre to produce the Envire™ range of timber substitute products such as fencing, bollards, decking, outdoor furniture and a variety of landscaping and industrial products.
For more information about Integrated Recycling visit: www.integratedrecycling.com.au
SEARCH
SUBSCRIBE TO ENEWS
MORE NEWS
SUSTAINABILITY PRINCIPLES
ULTIMATE ARCHITECTURAL FREEDOM
A WHOLE NEW WORLD OF FUN
RESOLVE EROSION ISSUES ON FARMS
APEX PARK: HELPING PEOPLE COME TOGETHER
ACO ACCESS COVER SOLUTIONS