CONTROL IT FROM ANYWHERE
05 Dec 2016
Hunter Industries introduces the HC WI-FI Controller, a web-based application that allows homeowners and professionals to control irrigation systems with a smart device from anywhere in the world!
Connect with the Hunter HC WI-FI Controller from Hunter Industries using Hydrawise™ software and manage irrigation control from anywhere in the world. Using a smart device, the HC WI-FI Controller uses Hydrawise™ web-based software to allow you to perform a number of functions, including preventing or fixing irrigation issues - just use the app to receive alerts for remote troubleshooting.
Use the downloadable iPhone or Android app as a remote control for increased efficiency, or manage controllers from a smart device or web-based home or office. The HC controller has a full graphical touchscreen interface, making programming without Wi-Fi connectivity a breeze. Install and program within minutes with a simple step-by-step setup wizard.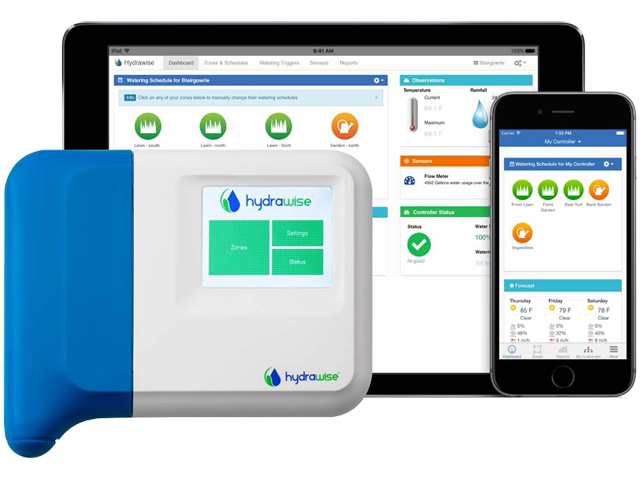 The HC Controller uses weather station information and localised forecasts to predict, change, monitor, measure, and report on your irrigation. The HC automatically adjusts daily watering schedules based on local weather, to provide maximum water savings while keeping landscapes healthy and beautiful. You can even store irrigation and landscape layouts online.
Main features of the HC WI-FI Controller include:
New style full-function controller with backlit touchscreen
Wi-Fi enabled for simple connection to the internet
6 and 12 station standard controllers
12 station expansion module allows for expansion to 36 stations
2 sensor ports
2-year Warranty
To find out more about the many standard and advanced features on the easy-to-use Hunter HC WI-FI Controller contact Hunter Industries on 03 9562 9918 or visit www.hunterindustries.com
Check out the Hunter HC WI-FI Controller system here.
SEARCH
SUBSCRIBE TO ENEWS
MORE NEWS
JUST ADD WATER
THE LEADER OF IRRIGATION
THE SMART WATER CHOICE
RAINGARDEN RESERVE STAYS GREEN
DESIGN TEAM EXPANSION AT SMART WATER
NAVIGATING THE CHANGING LANDSCAPE