CLOCK OF THE TIMES
17 Feb 2020
A spectacular 38,000 square-metre floor painting has been created in Saudi Arabia by artist Dasic Fernandez to bring colour, life and depth to the Diriyah Season Festival.
Image © Roberto Conte
As part of Diriyah Season, Dasic Fernández was invited by Desinglab Experience, Curators and Designers Office to create the artwork for Diriyah Oasis, an urban festival in the heart of Ad Diriyah, Saudi Arabia.
The artwork has been dubbed one of the largest visual artworks in history, and is a masterpiece of colour and geometry that was created with a team of 14 people, one engineer, two architects, 11 artist and 20 local assistants in 30 days.
Dasic was inspired by several topics for the work: "I am looking to respect the tradition of geometric patterns typical of the area, bringing them to the present and mixing them with my personal work. The colours are the result of my palette added with the pastel tones of the area, which removes a little saturation of the colours I use regularly.
"As for the drawing, I emphasised the transitions from one pattern to another, because I wanted to leave a visual record in the work of the integration of the past and the present and also of the social and cultural transition that Saudi Arabia is going through right now."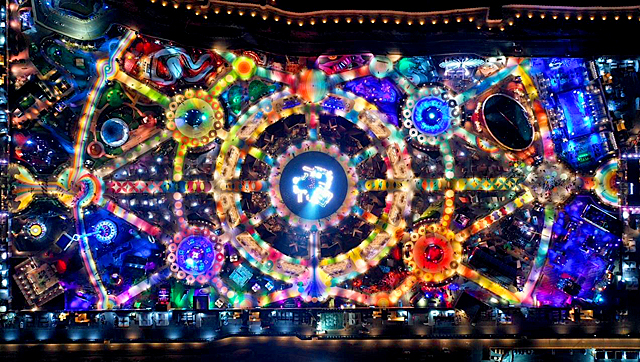 Via ArchDaily | Images via VIP Films unless otherwise stated
SEARCH
SUBSCRIBE TO ENEWS
MORE NEWS
PUBLIC ARTWORK FOR PADDINGTON SQUARE
MARBLE ARCH HILL
SURRY HILLS TO GET RAINBOW PATH
'CHRISTMAS TREES' FOR LONDON
A REAL-LIFE FAIRYTALE
UN-HABITAT'S MODEL STREET INITIATIVE